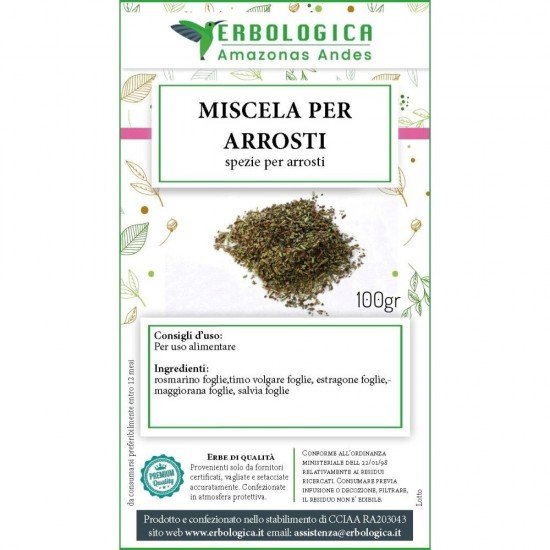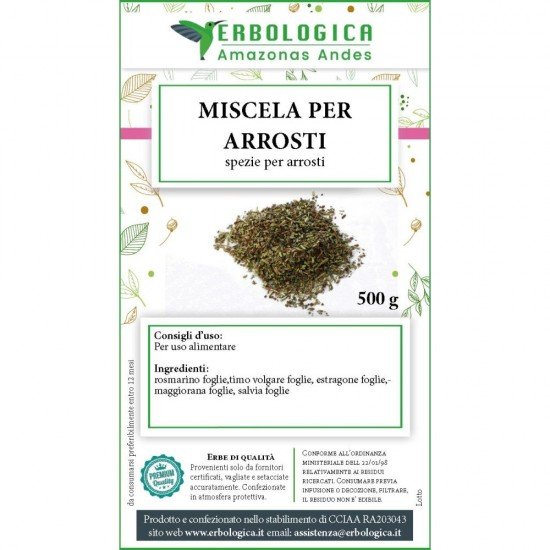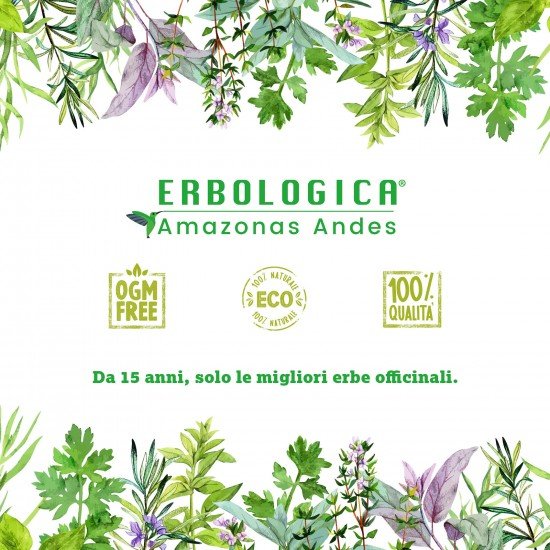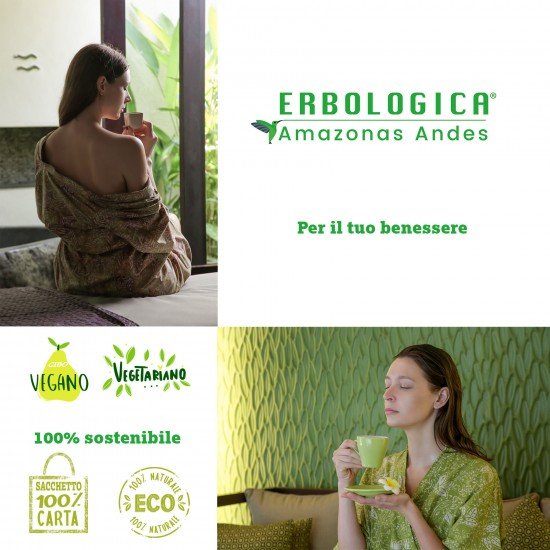 Aromatic blend for roasts
Aromatic blend for roasts
Meat is part of the Italian diet, also because it helps to have a good percentage of nutrients that are essential for the body. The meats are of different animal origin and all have a concentration of flavors that vary.

To be able to make them very tasty and have a tempting scent, it is important that there are spices and aromatic herbs that are able to "transform" the flavor of the meat. this is why the aromatic mixture for roasts was also born.

What exactly is the aromatic roasting mix used for? Perhaps there are few people who always have in mind that the different spices used in cooking are ingredients that enhance and flavor more "full-bodied" foods.

The aromatic mixture for roasts is aimed precisely to "soothe" flavors that are overly strong and that you may not like. To understand how important it is to use an aromatic mixture for roasts, let's see what we may have tried many times, that is, the strong flavors or smells that come from meat.

Not everyone likes boiled chicken, especially if you don't use spices, because it often has a nauseating smell. Red meat, being rich in blood and therefore iron, often has a particularly bitter or excessive taste. Even turkey has a flavor that you may not like because it is too strong.

However, it is precisely the aromatic mixture for roasts that manages to eliminate these problems, both in terms of aroma and flavor. There is talk of the use of different spices, mixed ad hoc, which are also used by the greatest chefs of the moment.

Aromatic blend for roasting recipes

How should you use the aromatic mixture for roasts? It should never be abused because otherwise the meat will be ruined. There are recipes that are very comprehensive and that allow you to really have a tasty and balanced dish.

Let's start with a simple dish, which is part of the aromatic blend for easy and tasty roast recipes, namely roast veal in a pan. Let's take a piece of roast about 400 grams. It is sautéed together with carrots and onions with a sprig of rosemary. Take the mixture and sprinkle the meat entirely, massaging it so that there is a good spread on the surface of the roast. Then it is placed in a pan and left to cook. Add water to the pan a little at a time, until the roast is ready.

Another aromatic blend for easy roasting recipes is the one involving skinless chicken legs with a spice crust. Take 6 chicken legs and peel them. In a pan, brown the onion, carrots and potatoes. Do not

add oil. The legs must be completely coated with the spice powder until they are completely covered. Then it is placed in the pan and left to cook.

They are really very quick recipes that can be made on any occasion, but which give a touch of elegance to dinner or lunch. The flavors are well balanced and hardly disliked.

Aromatic blend for roasts for sale
We come to the hot topic for the aromatic roast blend for sale. Many of you will have bought this product more than once in your local supermarket, but raise your hand if you have never noticed a musty or stale taste. This is the problem with poor quality products.
In fact, the aromatic mixture for roasts for sale is often very old, only herbalists and websites specialized in this sector, that is the herbalist one, are able to offer good quality products, fresh and with intense flavors. Better therefore to prefer them to other options.

Aromatic blend for roasts
Completely natural
Ingredients: rosemary leaves, common thyme leaves, tarragon leaves, marjoram leaves, sage leaves

Our herbs are packaged in a protective atmosphere or in a vacuum to preserve the active ingredients naturally contained in the plant from oxidation

The product is COMPLETELY NATURAL and GMO FREE. The residue is not edible.
Erbologica offers traditionally grown herbs and guaranteed and certified wild herbs
Only safe and effective products.
Before being placed on the market, the products must pass a careful analysis of microbiology, pesticides, heavy metals, radioactivity and aflatoxins. Once all these tests have been carried out, the products pass our quality control and are marketed.
N.B. The product can also be consumed cold and maintains its properties unchanged.
Pack of 100 - 500 grams
Amazonas Andes Erbologica Brand
Total Reviews (0)
click here write review to add review for this product.