15 Oct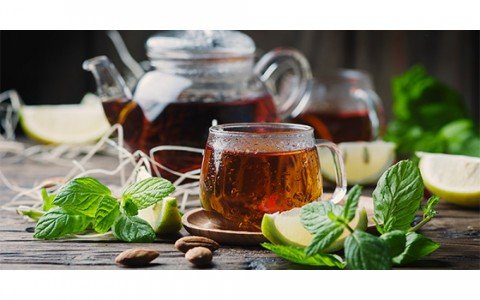 Posted By
0 Comment(s)
375 View(s)
"There are a few more pleasant hours in life than the hour dedicated to the afternoon tea ceremony." (Henry James)
We liked the idea of ​​starting the article with a quote that would enhance this ancient drink, its qualities and the pleasant feeling of relaxation that it gives in the classic afternoon tea time. For our customers who are more passionate about hot drinks, in this article we will tell a little more about the properties and benefits of black tea.
Black tea: discovering the origins
Tea cultivation has a fascinating and ancient history that embraces different populations, traditions and cultures.
The tea is made from the leaves of the tea plant - Camellia sinensis - a tree of the Theaceae family. The types of tea we know derive their origin from the processing of the leaves and other parts of this plant. In fact, according to the applied method, different types of tea are obtained. Among the most popular and well-known are drinks such as:
• Tender
• Green tea
• White tea
• Oolong tea
There are also several variants. In fact, you can choose between loose or flavored tea, such as black tea with berries, black tea with blueberries or even the refreshing black tea with mint.
Black tea properties
The intense and aromatic color and taste of tea comes from its leaves. The latter are subjected to a specific processing that makes them brown. Once combined with water, they release the typical dark red color.
The properties of black tea are precious for the body. Its leaves have antioxidant properties that help prevent cellular aging. In addition, they give it astringent properties, useful in case of discomfort such as diarrhea.
Black tea contains antioxidants, polyphenols, tannins thanks to which a drink known for its stimulating properties deriving from the presence of theine, theobromine and theophiline is obtained. Considering these properties, we recommend that you always respect the recommended doses in order not to incur discomforts such as anxiety, insomnia and nervousness.
Benefits black tea
The benefits of black tea are many, specifically it is great for hydrating during periods when you suffer from colds. Thanks to the presence of theobromine, in addition to the stimulating effect, this tea helps to improve concentration. This is why it is excellent during breaks from work or study.
Many wonder if black tea makes you lose weight. Surely this tea concentrates many beneficial properties, in fact it is a faithful ally against cholesterol and does not have calories. It contributes with positive effects to the healthy diet by improving digestion and, therefore, it can be said that it assists weight loss.
Tea is one of the most consumed beverages in the world. It is excellent for regenerating concentration or restoring vigor to the body to better face the days. At Erbologica we offer a selection of quality black tea with an intense aroma that is perfect for every taste requirement.
The information contained in this article is given for the sole purpose of information and does not in any way replace the prescription of a doctor. We recommend that you consult your doctor and / or specialist regarding any doubt or indication.