08 Oct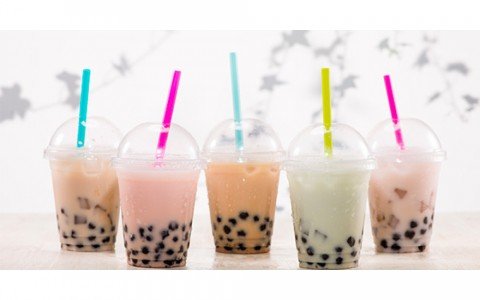 Posted By
0 Comment(s)
1212 View(s)
Bubble tea has quickly become a consumer trend in the West. It is a Taiwanese drink whose original recipe dates back to the 1980s. The success of this quirky and innovative snack drink is surprising, so we want to clarify what it is and how you can make it at home.
Bubble tea: what it is
Bubble tea is a tea-based drink made with milk and tapioca pearls, also called popping boba or simply boba. And if you don't have boba, you can use vegetable or fruit jellies.
Texture, shape and varied tastes are the ingredients of the success of this snack drink. You can choose the variant of tea, the taste of the boba and the milk you prefer and easily compose your tea with bubbles. The best known bubble teas are, for example, black tea with milk and tapioca or green tea with milk and tapioca.
Bubble tea ingredients: what are tapioca pearls
Let's find out more about the boba. The latter are gummy beads of tapioca, which is a starch extracted from the root of the Cassava plant. The pearls themselves have a neutral flavor and are often enriched with food syrups, so obviously it will be possible to choose the most varied flavors.
You can find them in ethnic shops, which specialize in Asian foods. And if you don't have them nearby, just look online to buy them. What you need to know is that before adding these gummy pearls to your tea, they must be soaked in cold water and then cooked. After that they will be ready to be served with your drink.
Bubble tea flavors
Bubble tea can be prepared with milk or without milk, but the constant element is the base of black tea, green tea or oolong tea. Popping boba contain fruit juices or syrups. They can be made with the most disparate tastes. Very popular are those with mango, strawberry, apple, orange, blueberry, and the list goes on.
Bubble tea recipe: homemade by you
In Italy, tea with pearls is not yet served in all cities. We are here to tell you that you can safely prepare it at home at any time. Here's how to make bubble tea at home.
First choose the base. Select and prepare a cup of tea of ​​your choice. It can be green tea, black tea, oolong tea, or matcha tea if you prefer. Know that you can also decide the aroma of the tea, so free your imagination.
Soak 50 grams of tapioca pearls in cold water for an hour, then cook them for ten minutes in 500 ml of water. Drain and cool. There are bobas that prepare even faster, so if you're in a hurry just pick the right variant for you.
Then add the bobas to the tea, mix with milk (you can choose what you usually drink) and sugar to taste. If you wish, you can shake everything with a few ice cubes. Et voila! Bubble tea is ready. And, don't forget to pour it all into the glass so you will see the pearls.
On Erbologica we offer a wide selection of quality teas:
• green tea
• tender
• oolong tea
• matcha tea
You can choose the flavor you want and prepare this delicious snack drink.
The information contained in this article is given for the sole purpose of information and does not in any way replace the prescription of a doctor. We recommend that you consult your doctor and / or specialist regarding any doubt or indication.