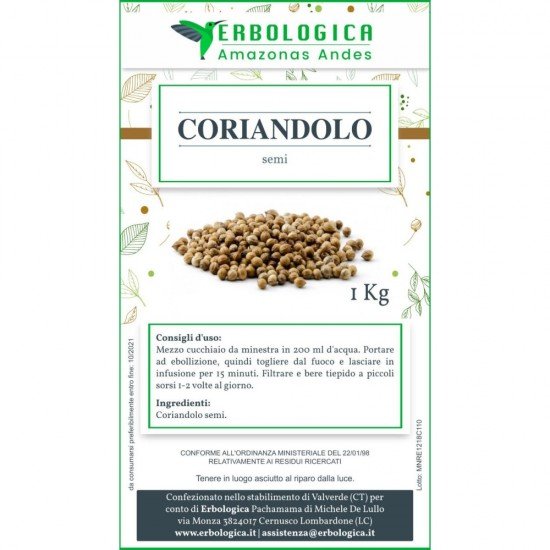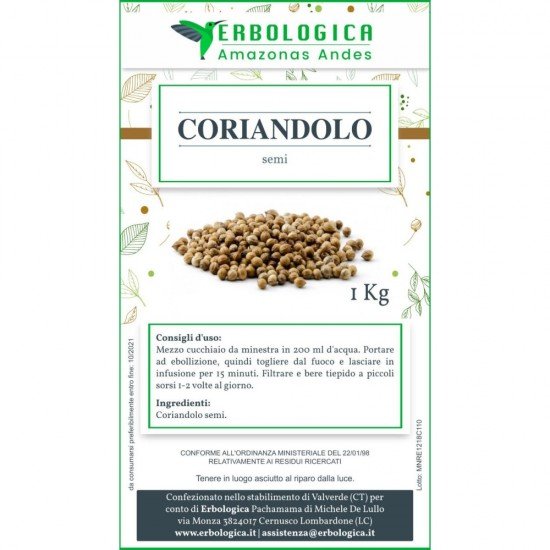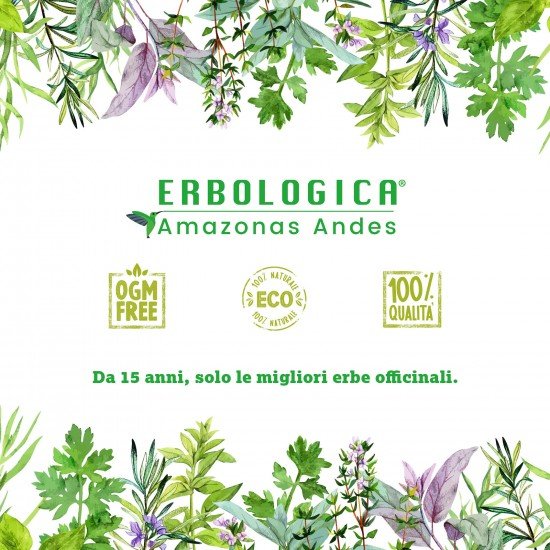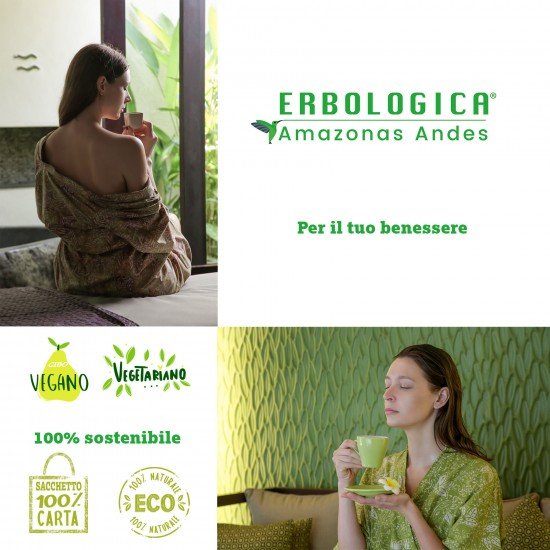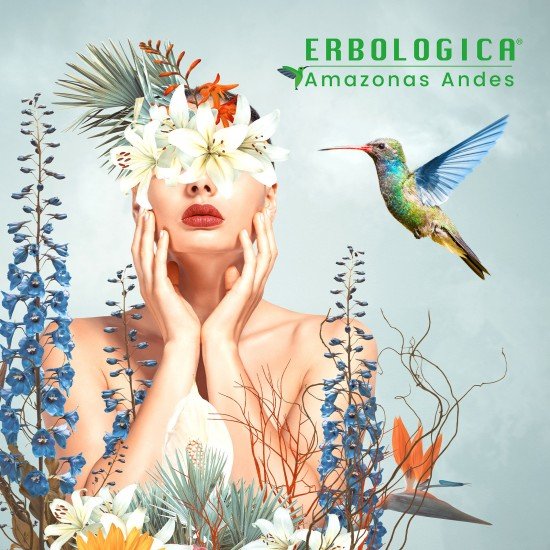 Coriander seeds herbal tea 1 kg
Coriander seeds herbal tea
Coriander is a spice that we also use for cooking, but not everyone knows what the health benefits are and Coriander seeds herbal tea offers a very simple and easy method that you can use to get all the active ingredients there are.

In India, Coriander seeds herbal tea is widely used as a "welcome" drink when you have guests and also becomes recurrent during weddings, for a good omen.

Leaving aside what are the traditions that are used in other eastern countries, let's say that today it is possible to use Coriander semi-herbal tea also in Italy having a good taste, certainly spicy, but which becomes particularly appreciated when it is then sweetened with sugar and honey.

In fact, when you use a particularly dried Coriander semi-herbal tea, it is possible to reduce the problems of excessively strong flavor and to have a very delicate drink that is also used in its pure state.

In the end, the Coriander seeds herbal tea still has a very pleasant taste.

Benefits Coriander seeds

What Are the Benefits of Coriander Seeds? It is a very useful spice for the recovery of digestive functions when perhaps you are regaining strength after a stomach flu. The stomach walls will be excessively irritated and the sedative and calming action offered by this spice guarantees excellent antibacterial help.

Among other things, it is also possible to have a rebalancing of intestinal functions thanks to the natural extracts that are available.

The benefits of Coriander seeds are also those of being particularly diuretic. If you are going to decrease your water retention or even decrease the state of cellulite, here you can get a great help from this spice.

Finally, among the Coriander seeds benefits, we also find the possibility of having a cure for any urogenital infections. In the inflammation phase, taking these herbal teas, however, brings calming and purifying effects.

It is a spice that has many characteristics that are often also homeopathic.

How to prepare the herbal tea Coriander seeds

As we have suggested, coriander is also used in many recipes to still prepare excellent roasts. However, for How to prepare Coriander seeds herbal tea, there must be good attention to the "cooking".

To reap the maximum benefits, but also having a very bitter taste of the herbal tea, you can pour a tablespoon of coriander in a glass of water and leave it to infuse for over 24 hours. Then everything is boiled, but as soon as it comes to the boil it must be turned off and left to infuse. Then you filter and drink.

Alternatively, to have a much more delicate flavor, then simply pour the product into a saucepan and bring everything to a boil and leave it on the stove for another two minutes.

This is another method for How to Make Coriander Seed Herbal Tea that helps it taste much more delicate and is highly digestible.

Coriander seeds for sale

Coriander seeds for sale, can be found a little in all food stores, herbalists and even on the internet, but each one of it has different characteristics.

Coriander seeds for sale in food, is very commercial, of poor quality and therefore does not offer a good action because its nutrients have not been dried in an excellent way.

Coriander seeds for sale in herbal medicine or on the internet is what you can find of the highest quality. The drying will have been done naturally and you will also have a product chosen to release all the nutrients and active ingredients that belong to it. It is always better to prefer the latter two types of purchase in order to have a truly optimal product.

Coriander seeds 1 kg

Other names: coriandrum sativum

Properties: they are stimulating, carminative, aperitif, digestive.

Preparation: 3 grams in 100 of water, corrected with a few pinches of mint, drink one

cup after meals.

External use: the pulverized seeds, mixed with water, are skin healing and anti-inflammatory.

Half a liter of infusion in hot bath water serves as a stimulant and deodorant.

Used in liquor, pastry, confectionery, cooking for sauces and culinary preparations of game.

Used for the preparation of sausage meats.

Content of 1kg

Sold by Erbologica Amazonas Andes