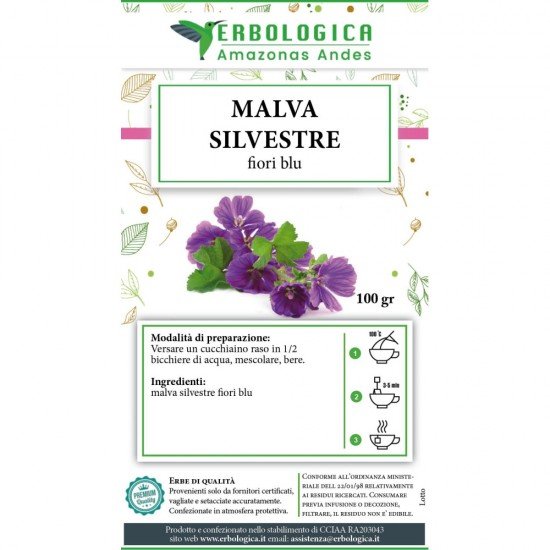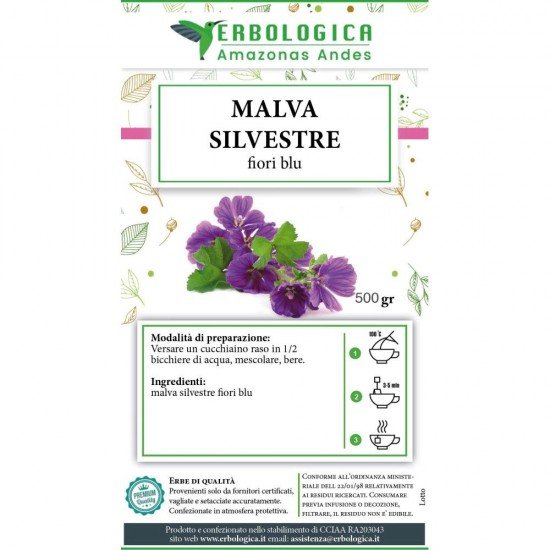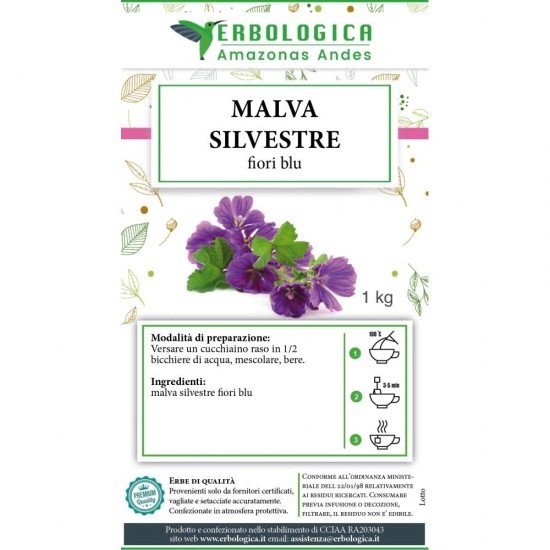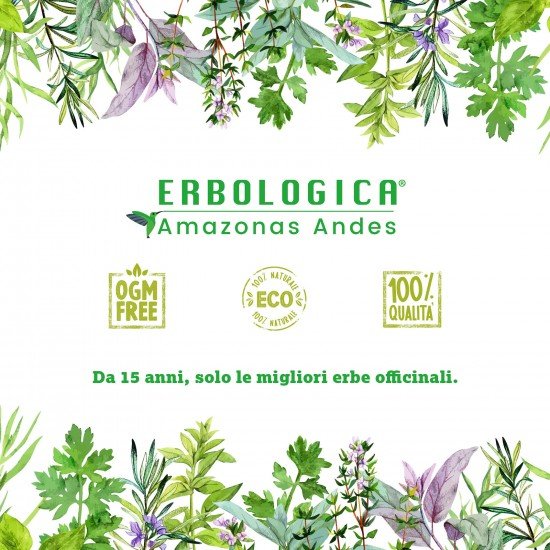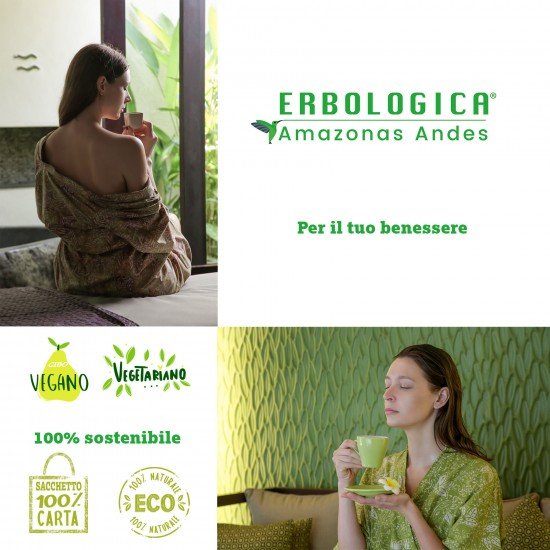 Blue flower mallow
BENEFITS:
Mallow is a medicinal herb that gives multiple benefits to those who consume it. In fact, blue flowers have beneficial properties for the throat, intestines, counteract lung irritation, are refreshing, purifying and slightly laxative.

The mallow herbal tea brings benefits both to the lungs and the respiratory tract, very useful in case of cold or cough. Malva sylvestris is an excellent herbal product. To benefit from the properties of mallow, both the flower and the leaves are used, both very rich in nutrients, essential oils and active ingredients useful for treating various problems.

Mallow herbal tea is a pleasant drink, thanks to its delicate flavor it is good in its natural state, without being sweetened.

Mallow properties: a good drink made from mallow leaves allows for a balsamic action and also reduces the problems caused by phlegm. Mallow has a large amount of mucilage, which guarantee an emollient and anti-inflammatory effect for the tissues and muscle fibers.

METHOD OF USE:

To prepare the mallow herbal tea, bring the water to a boil, about 150ml and then pour it over the product (3g). Once done, leave to infuse for 5 minutes. You can drink 3-4 cups of mallow tea a day.

We recommend drinking mallow tea to relieve coughs and bronchitis, with the addition of honey you will have a more effective action and an even sweeter taste.

External use: using compresses with mallow flowers helps to cure styes and boils. In addition, blue flowers have the property of relieving inflammation in the gums. Erbologica offers safe and effective products. Before being placed on the market, the products pass a careful microbiological analysis, of pesticides, heavy metals, radioactivity and aflatoxins. Once all the tests have been passed, the products pass the quality control and are marketed.

100 - 500 - 1000 gram recyclable paper packaging.

The product is completely natural and no OMG.

Image label may vary.

Sold by Erbologica Amazonas Andes

Total Reviews (0)
click here write review to add review for this product.