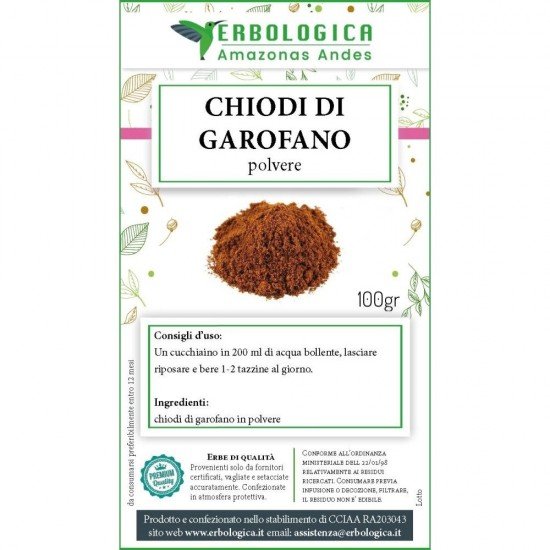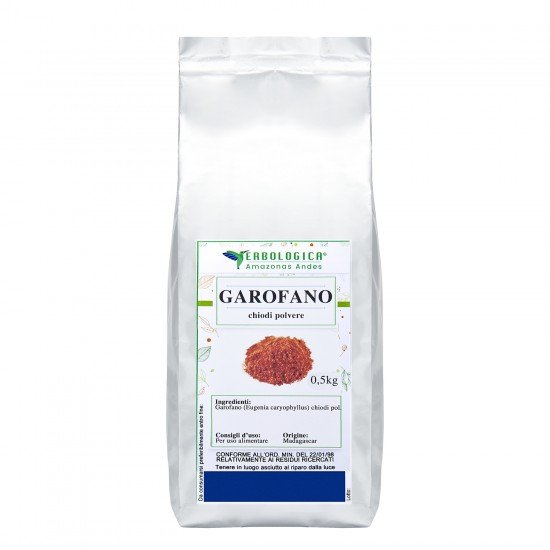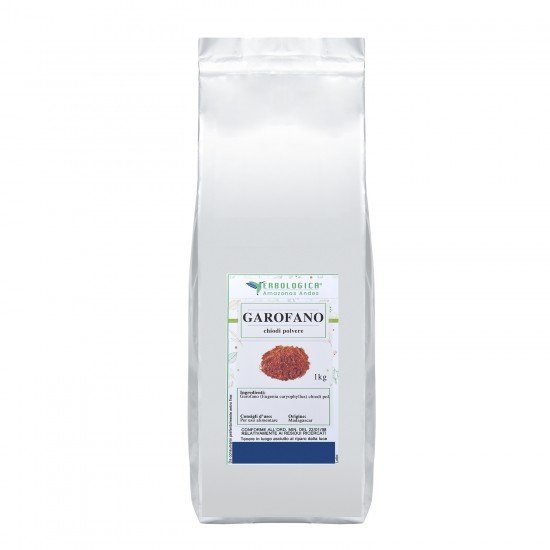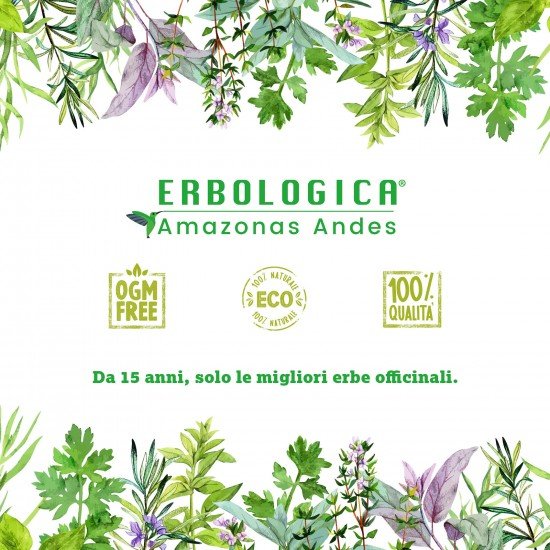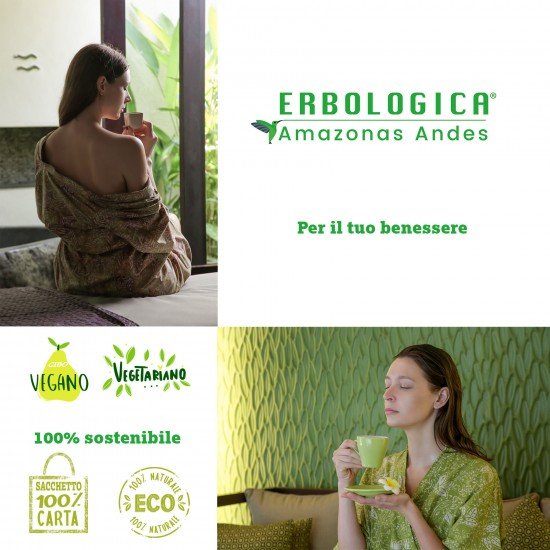 Carnation nails powder
Carnation nails powder
A spice that has the shape of a flower, but it is a really much loved spice in the East, is the clove spice.
We are talking about a seed that belongs to the Myrtaceae family, so it has a lot of healing properties. It is no coincidence that it is widely used in oriental medicine, but it is also used to preserve meats and other foods that are perishable.
The typical aroma of cloves and spices is due to the large presence of "eugenol" which is one of the most powerful and beneficial essential oils currently available in herbs. On top of that it also has a good amount of beta caryophyllene, which is an anti-inflammatory.
Obviously, the clove spice must also be used in a small amount otherwise there is a risk that its flavor will cover the foods that surround it. One of the advantages of the clove spice is the aroma, intense, strong and also very pleasant.
Once you intend to use cloves and spices, you make a very particular choice that offers unique flavors, sometimes even ethnic, but which are always very tasty and flavourful.
Benefits Carnation Nail Powder
Each spice has its pros and also its cons. In the beneficial cloves we find the possibility of having a highly digestive action, but not only. It is loved by the lungs, in the sense that the beneficial cloves are also balsamic and therefore it is possible to have a decrease in the presence of phlegm.
Once it is taken in the form of herbal tea, its scent immediately helps to have a robustness of the muscles of the lungs. The clove benefits are appreciated in children.
We can combine hot milk with cloves in order to offer an herbal tea that is appreciated by children. This helps to have the nutrients and essential oils that are in this spice. At this point, the phlegm present in the lungs is significantly reduced and dissolved in a completely natural way.
Not only that, the clove benefits are also those of being able to have a reduction in sore throat because it acts directly on inflammation. The bacteria are able to be immediately fought and rendered unarmed, so the immune system then manages to fight these health problems.
Either way, you should never think about the clove benefits because there are side effects as well.
How to use clove powder
The strong and intense flavor allows for a pungent and very spicy aroma. At this point it is good to know how to use clove nails also in order not to make mistakes.
First of all it is good to use this spice in desserts. We can use it to flavor panna cotta, gingerbreads, to create biscuits or even to add an oriental flavor to wine.
Alternatively, another way of how to use cloves, is the one that concerns the cooking of meats, especially red meats. Just pour the product over the cut and then put it to cook. The heat will release its aroma and thus flavor the meat.
Carnation nail powder for sale
Spices are only good when they are fresh. Even if they are dried, they must never be one year old.
To have a really intense aroma, carnation nails must be bought in a herbalist's shop or at the most in a herbalist website. In reality, the cloves sold in these shops may have higher costs than those products that we find in supermarkets, but the flavor will be distinctly different.
Alternatively, we can find cloves for sale in shops selling both fresh and dried spices.
Carnation nails powder
Properties: they are aromatic, antiseptic, anesthetizing dental pains,
stimulate the appetite and improve digestive functions.
Herbal tea preparation:
a teaspoon in 200 ml of boiling water, let it stand and drink 2 cups a day.
Excellent aromatic condiment for meats and sauces and are used for the preparation of compound drugs.
Content 100 - 500 - 1000 grams
Total Reviews (0)
click here write review to add review for this product.