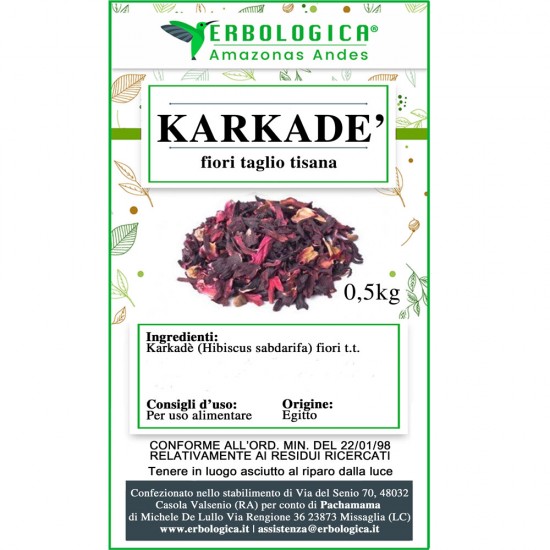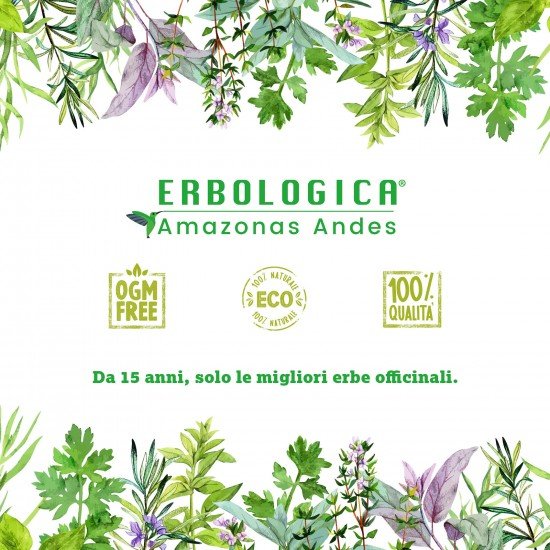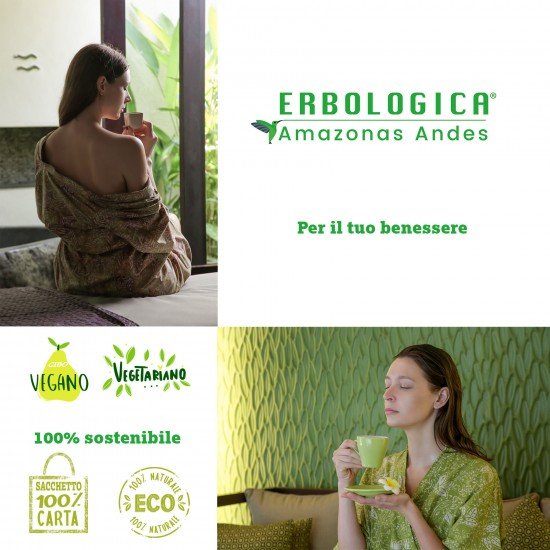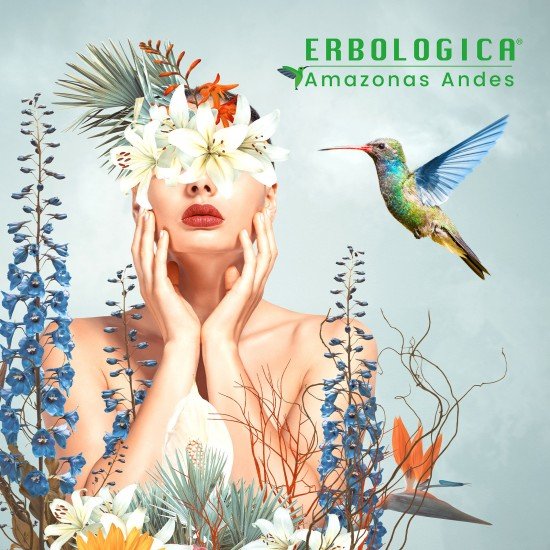 Karkadè flowers herbal tea 500 grams
Karkadè flowers herbal tea
Today there has been a revaluation of the properties that many herbs, flowers and fruits possess. One of the most popular is the karkadè herbal tea, commonly known as hibiscus tea. It is obtained from hibiscus flowers and fruits which are then dried so that they can be reused and boiled to give a fuchsia-colored drink that is particularly tasty.

In the herbal tea karkadè we find a very ethnic flavor that is appreciated precisely for its characteristics and for its flavor.

Obviously, when we prepare a herbal tea karkadè we must not focus only on flavor and color, we must evaluate what are the benefits that we can derive from it. It is a "food" that is often recommended for the body.

Many consumers prefer it to tea because they have stated that it is a very flavorful drink that has no side effects. The herbal tea karkadè has had a new revaluation in the last two years and that is why there are currently so many products of this herb.

Karkadè property

The karkadè antioxidant properties, ie anti aging, it does not contain caffeine, so it is free of any excitement, but it has many active ingredients and mineral salts such as flavonoids, vitamins A, C and D, rich in magnesium and calcium. All elements that aim to stimulate the production of collagen which is the main nourishment of the skin and internal organs.

As for health, karkad has fat burning properties and also helps lower cholesterol. It brings total benefits to the body and each of us can take a different amount of this food.

For capillaries and veins, karkadè antioxidant properties, guarantees a retarding effect for cellular aging. Anyone with heart problems, for example, finds themselves having a tonic they can rely on. Not only that, if you suffer from varicose veins or even capillary fragility, you are guaranteed to have immediate help to restore their correct function.

The uses are many and all of them have the aim of being able to guarantee help for their health and beauty.

Karkadè herbal tea for sale

As we mentioned before, the herbal tea karkadè is on sale in various physical stores. It is found in supermarkets, even if they are still very commercial, it is better to take advantage of the offer to find the herbal tea karkadè for sale in herbalist shops or even on specialized websites.

For the latter one has to deal with products that are controlled by competent bodies and also to have a certainty on the fragrance of the product itself. Whenever we intend to approach herbal use, we must still try to evaluate the products that are in herbal medicine or at specialized e-commerce.

There is the possibility of having a really optimal origin of the karkadè herbal tea for sale, perhaps coming from specific geographical areas that help to give the right value to the product. What do you think of having the karkadè herbal tea for sale that comes directly from African plantains? In this case the product is really excellent and of the highest quality.

Karkadè where to buy

Going back to the discourse of the karkadè where you buy it, we advise you to turn to websites and e-commerce specialized in the herbal sector.

You don't necessarily have to settle for a poor product that you find in food, take advantage of the opportunities that are given by the internet. When you ask: karkadè where to buy? The best answer is "online" in order to check origin, have lower costs and therefore also know exactly what the characteristics of this food are

Karkadè flowers herbal tea 500 grams (hibiscus-hibiscus sabdariffa)

Properties: tonics, digestives, regulators of liver functions
Preparation of the herbal tea: a teaspoon in 200 ml of boiling water,
let it rest for 5 minutes, drink 2 cups a day.
Rosy in color and sour taste, it is indicated as a coffee substitute.
Recommended for those who can't stand drinking coffee, it is also a thirst-quenching drink.
Very pleasant taste, excellent cold in summer.
Content of 500 grams
Sold by herbal amazonas andes international herbalist