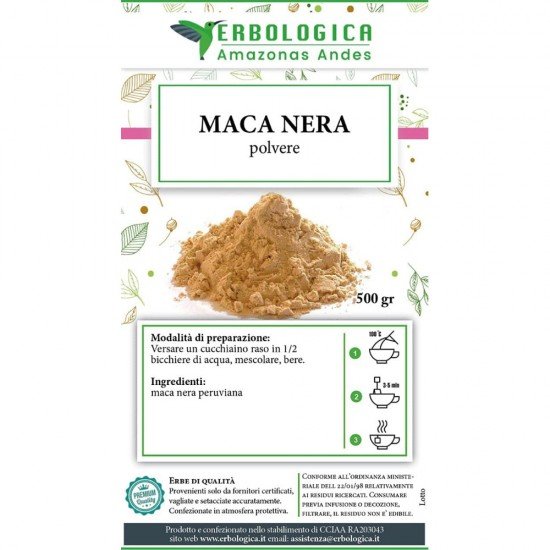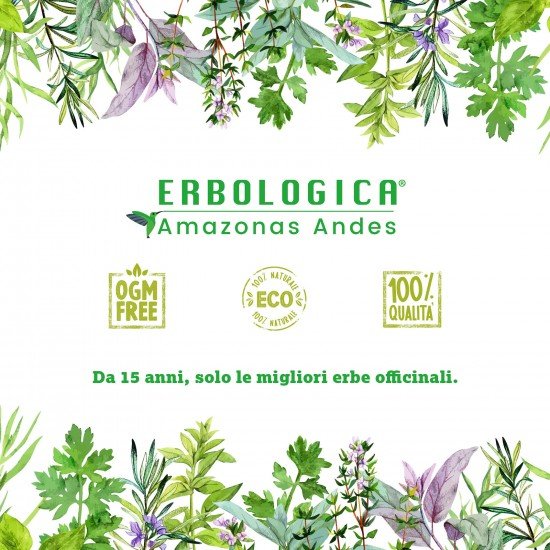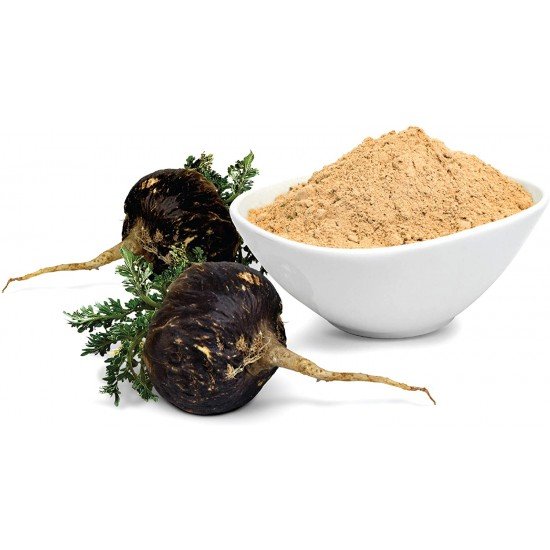 black maca powder
BENEFITS:
Black maca is a plant that has many nutrients and active ingredients within its root that also propagate inside the fruit. Finding the root is often difficult, so you can opt for other supplement maca formats such as, for example, black maca powder.

Maca powder has all the nutrients and active ingredients which, when consumed, are well distributed in drinks or recipes, allowing for maximum benefit and absorption of the substance. It has a delicate and pleasant taste, which makes it an excellent ingredient also for your good and healthy recipes. The pulverized form is also recommended for those who have problems resulting from intestinal diseases or reflux.

Maca is an adaptogenic food, it acts on the endocrine system by balancing our hormonal levels, thanks to the macaine with a high presence of sterols, macro nutrients, vitamins and minerals.

Maca benefits: the maca root from which the black maca powder is derived is rich in properties that are very important for the body. Inside we find a large amount of nutrients, essential oils and various mineral salts.
Natural Maca is a complete food, it has many essential amino acids, carbohydrates, fatty acids and fibers. This extreme richness makes it a super energizing product useful for improving muscle tone as well as giving benefit to the nerve centers. The black maca powder has properties to relax the muscles and give resistance to the body, in fact it is also recommended for competitive sportsmen.

The amino acids inside it are able to speed up the reconstruction of fibers and internal tissues. This function makes it an excellent catalyst especially in the case of fractures as it accelerates healing.

Black maca powder is capable of offering our body many other benefits, let's see some of them:• Gives vitality and improves stamina in physical work and sports.

• Strengthens the immune system.

• Improves thyroid function.

• Prevents osteoporosis.

• Increases libido.

METHOD OF USE:

Maca powder is a food that can be taken daily, but which must be used only in certain doses in order not to risk feeling exhausted.

In addition to taking it dissolved in a drink or other foods such as yogurt, it is actually possible to mix it with flour to obtain doughs to be used for desserts or pasta. We recommend taking one (coffee) teaspoon of powdered black maca a day, before breakfast.

Contents: 500 gram pack of Peruvian black maca powder

Seller: Erbologica Amazonas Andes

Purchase this product first or wait for order to complete in order to give review
Total Reviews (0)
click here write review to add review for this product.