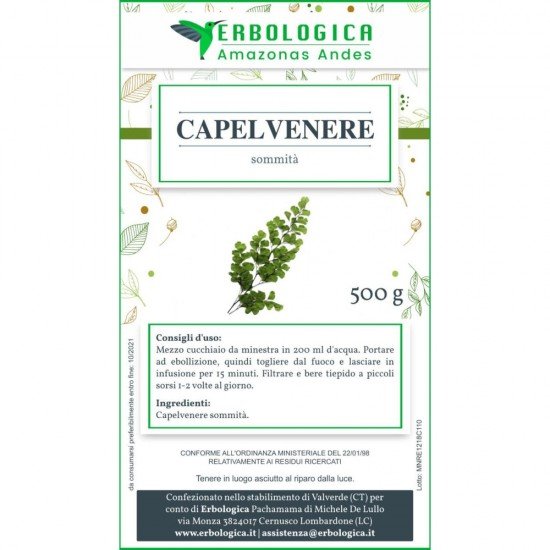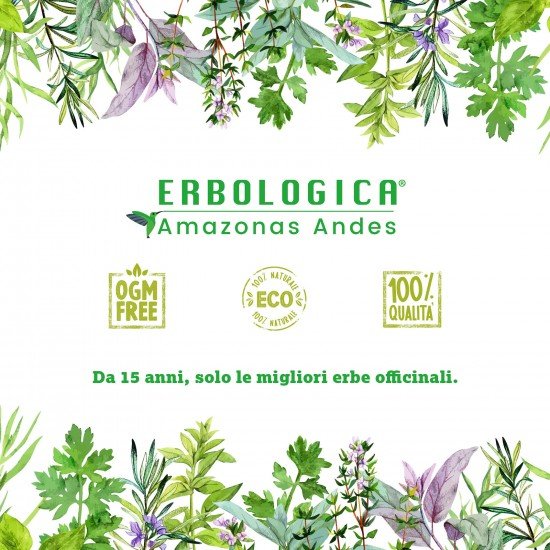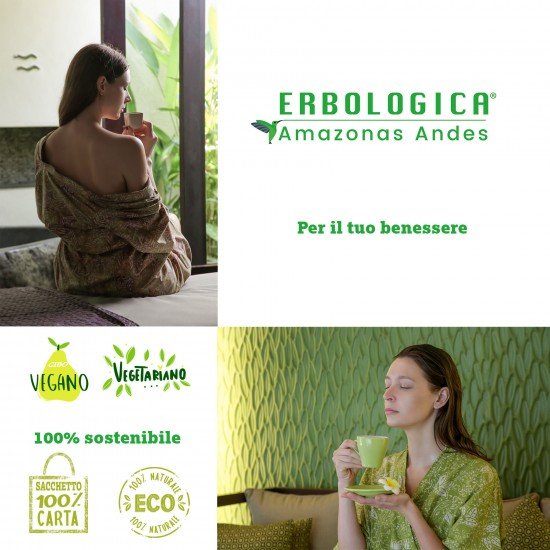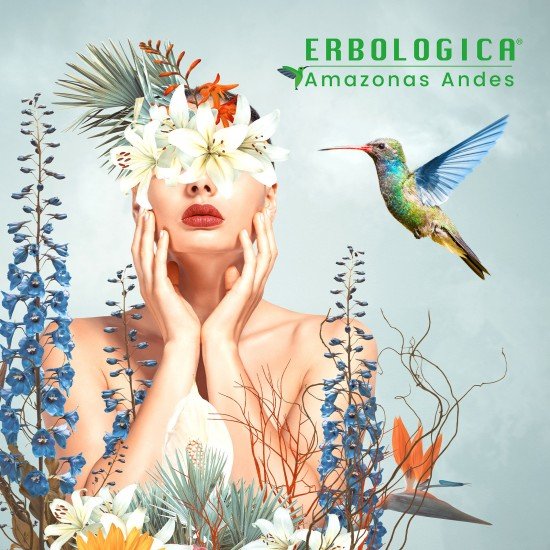 Maidenhair top cut herbal tea 500 grams
Maidenhair top herbal tea
One of the strangest drinks that we can currently find on the market, which is also often underestimated, is the one that directly concerns the Capelvenere summit herbal tea.

The maidenhair plant is really very particular, very delicate, where the blades of grass move in such a simple and "soft" way that they resemble the hair of a goddess, from which the name derives, but in addition to this, it contains principles active ingredients and essential oils that are very useful.

The Maidenhair top herbal tea has a flavor that, for certain taste notes, resembles the taste of eucalyptus, therefore quite balsamic, but where we also find some herbaceous notes. It is a balanced flavor that appeals to those who love drinks that are exclusively natural.

Alternatively, if you still want to have a sweeter flavor, you can add a little bit of wildflower honey, do not overdo it so as not to cover the Maidenhair top herbal tea, as its taste could then be totally "suppressed" by this honey.

Maidenhair at the top of the property

Let's now list which are the Capelvenere summit properties, what they are used for and what treatments they are intended for. It is always better to take the "top" of this plant as it is the one where a large amount of essential oils and active ingredients are concentrated.

The Maidenhair summit beneficial properties to fight bronchitis, angina problems and also decongestant or purifying for the liver. In general it is an excellent remedy for the cure of everything related to phlegm. In any case, it is advisable to use some herbal tea based on this herb, even in the early stages of the flu in order to help the immune system.

In the Capelvenere top properties that are essential oils and active ingredients, such as phenols, mucilage, triterpenoids, tannins and hydroxycinnamic acid. All elements that lead to a purification of the liver, to balance the production of bile, eliminating even the one that is more toxic, but also useful for regulating the heartbeat.

The advantage of using this herb is that it does not offer side effects and therefore you have the possibility of being able to take it even once a day getting all the possible benefits.

How to prepare the herbal tea Capelvenere summit

The maidenhair is a very, even too delicate plant. It requires continuous care that must be taken into consideration precisely because we are talking about a plant that wants to be left in peace, in its natural habitat, but which requires attention if it is not in this situation.

In any case, having made this premise on what its "delicacy" is, another problem is highlighted, namely that of knowing exactly how to prepare the Capelvenere summit herbal tea because you risk damaging it also based on "cooking" .

For how to prepare the Capelvenere summit herbal tea, one must think that it is dealing with a procedure that we do not find in other herbs. The water must be boiled. Once it is boiling, you have to turn it off and

wait 2 minutes. You read that right, you have to wait for a sort of "cooling", then pour the product and leave to infuse.

Once cold, it is filtered and the herbal tea is drunk.

Maidenhair top for sale

Here we also come to another problem that concerns the maidenhair fern. It is a herb that is not easily found, even in the most well-stocked herbalists and forget that there is some pharmacy that is available to find this product.

The Capelvenere summit for sale on the internet is the only way that allows you to have this product for sure. Among other things, the Capelvenere summit for sale on the internet also guarantees a good quality of this herb and therefore an excellent herbal tea to be made.

Maidenhair top cut herbal tea 500 grams

Other names: fontanina grass, adiantum capillus veneris

Properties: emollient, expectorant, treats coughs, colds and chronic catarrhs, it is recommended

in asthma and breathing difficulties, it fights liver and spleen blockages, reactive

stop menstruation.

Preparation of the infused herbal tea:

3 grams of 100 ml of boiling water, drink 3 cups a day.

Contains flavaspidic acid which helps heavy drinkers and smokers reduce the urge to smoke and drink.

External use: 15 grams in 100 of water and boiled until reduced to half is used to wash the garment,

rub the scalp and fight dandruff and hair loss.

It is also used for gargle in throat pains.

Contents: Maidenhair marine plant herbal tea cut 500 grams

Erbologica Amazonas Andes