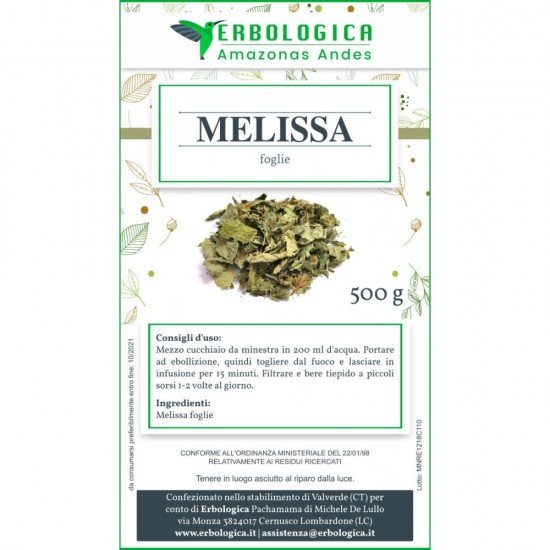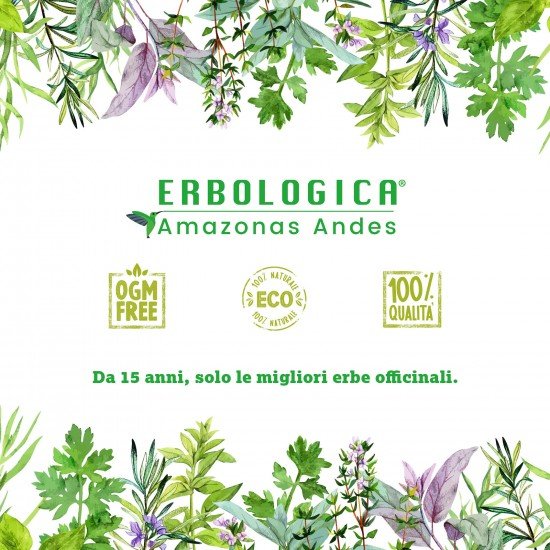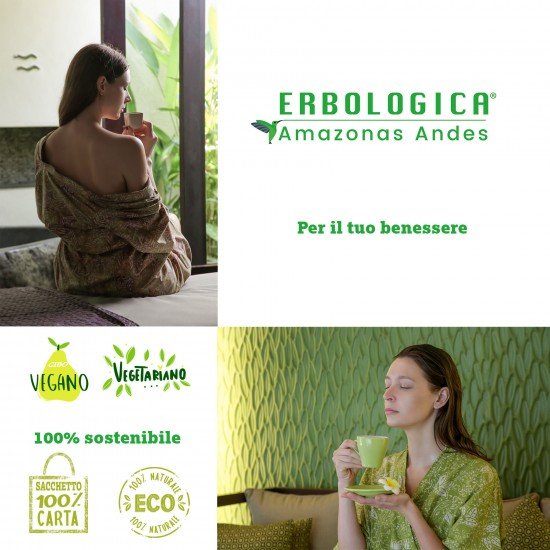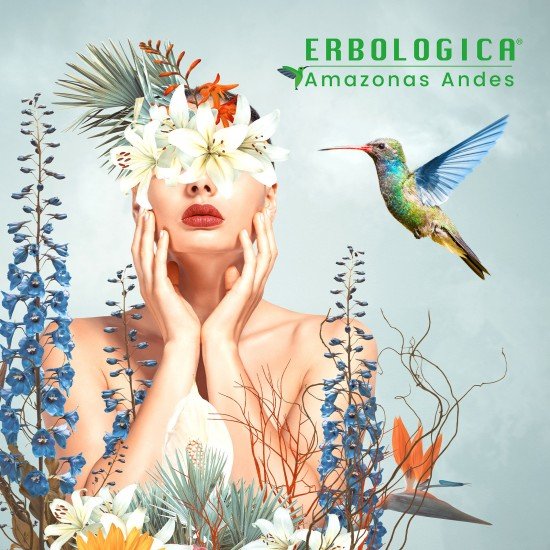 Lemon balm herbal tea 500 grams
Lemon balm herbal tea
Always known, the lemon balm herbal tea offers an infinite number of benefits, but we also think about its flavor. The main characteristics are that of being sweet, but you also need to know how to prepare it because you run the risk of being able to "damage" this very delicate type of herb.

The lemon balm herbal tea must be prepared in such a way as to pour boiling water over it, without boiling it directly. If you go to boil directly over a flame, you risk damaging, depleting and dividing the molecules released by the active ingredients of this herb. The risk is that you can no longer have any guarantee of an excellent flavor.

Indeed, when it tends to boil, it becomes particularly bitter. Lemon balm herbal tea is very good, but only when you are sure that you can have hot water that pours onto the grass and which therefore only leads to the release of the active ingredients.

Melissa properties and benefits

What is the properties and benefits of lemon balm? It is a herb that resembles mint leaves, but does not have the same flavor. In reality it offers a series of advantages that start from being curative up to a moral and mental help.

Lemon balm properties and benefits to help balance stress problems, helps insomnia, relieves headaches and therefore also helps to have optimal relaxation.

Even better than chamomile, lemon balm is also recommended for those who suffer from heart because it does not lower the heart rate, as happens with chamomile.

As for the proposed benefits for the internal organism, it is an excellent help for the liver. It manages to reduce an excessive production of bile and therefore also to dispose of what has already been produced.

The lemon balm also has invigorating properties and benefits regarding the spleen. This is why daily use must be taken into consideration, but without going overboard.

Lemon balm herbal tea for sale

Where to find lemon balm herbal tea for sale? In reality today it can also be found in various supermarkets, in herbal medicine and also on websites specialized in the herbal sector, but we also try to highlight the disadvantages between the different products.

If we opt for the lemon balm herbal tea on sale in supermarkets, it is possible to find herbs that are still dried but where there is the presence of preservatives. While as regards the herbal sector, then a sort of freshness is highlighted that also allows you to have a very tasty drink or decoctions.

As for the world of the web, e-commerce sites are real deposits that are always available where there is a continuous sale and also products that are always fresh or of the highest quality.

That is why it is advisable to use a direct purchase that you can make at any time and wherever you are.

Lemon balm in herbal medicine

The proposal of lemon balm in herbal medicine is certainly of excellent quality and this is why many users always turn to physical stores, but sometimes they are deeply disappointed, because there is still the risk of not finding the fresh product.

Lemon balm in herbal medicine is in the form of:

- Fresh leaves

- Dried leaves

- Pre-packaged sachets
- Lemon balm powder
All very valid herbal elements, but which in any case must be related to the use and direct intake that interests the consumer. When you are planning to make a direct purchase in these physical stores, it is best to always evaluate what the pros and cons are compared to the shops and websites. In fact, in the latter it is also possible to find lower prices.

Lemon balm leaves herbal tea 500 grams

Other names: Cedronella, limoncina herb, lemon herb, lemon balm offcinalis
Properties: they are digestive, tonic, carminative, stimulant, they treat nervous affections.
Indicated in stomach disorders, muscle weakness, chronic catarrh, anorexia,
in slow digestion.
Preparation of the herbal tea or tea:
1 grams in 100 of boiling water, drink 2 cups a day.
A pleasant drink that replaces tea.
Used a lot in liquor and perfumery.
Indicated for children suffering from strong cough, use it together with mint, thyme and sage.
Content of 500 grams
Sold by Erbologica Amazonas Andes international herbalist online
Purchase this product first or wait for order to complete in order to give review
Total Reviews (0)
click here write review to add review for this product.