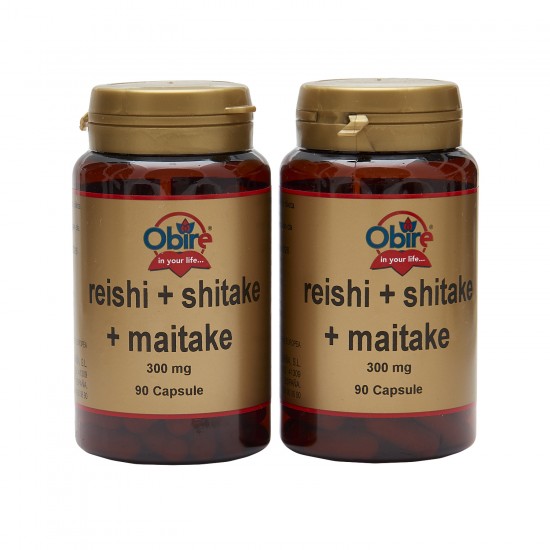 Reishi Shitake Maitake
BENEFITS:
Reishi, Shitake, Maitake is a food supplement based on Chinese mushrooms known since ancient times for its healthy characteristics. Reishi (Ganoderma lucidum) is a mushroom of oriental origin, has the shape of a reddish-brown cap and contains substances (triterpenes, oleic acid and polypeptides) with a structure similar to immunoglobulins.

Reishi mushroom is an excellent anti-inflammatory, antioxidant, which helps to relieve the body from situations of stress and fatigue, and to regulate pressure.

Shitake (Lentinula edodes) contains polysaccharides called beta-glucans which help activate the immune system, increasing our defenses. Shitake mushrooms have antiviral, antibacterial and pesticide properties.

Maitake is another of the Japanese mushrooms that works by activating the immune system through certain beta-glucans. The Maitake mushroom (Grifola frondosa) is a valid ally in slimming and weight control.

Ingredients: Reishi powder (fruit) (Ganoderma lucidum Reishi), Shitake powder (fruit) (Lentinula edodes) and Maitake powder (fruit) (Grifola frondosa) The product does not contain allergens listed in Annex II of the Regulation (EU) n. 1169/2011. This product does not contain GMOs (genetically modified organisms) and is free of BSE / TS Food supplement based on mushrooms.

METHOD OF USE:

Take 3 capsules a day of Reishi, Shitake, Maitake, preferably during or after meals.
The minimum duration of treatment is 45-60 days to allow the body to take the active ingredients.
2 packs of 90 capsules

Total Reviews (0)
click here write review to add review for this product.
Stock:

In Stock

Brand: Obire
Model:

reis-sh-mait-ob-2con

SKU:

reis-sh-mait-ob-2con

EAN:

7424631851818

MPN:

7424631851818