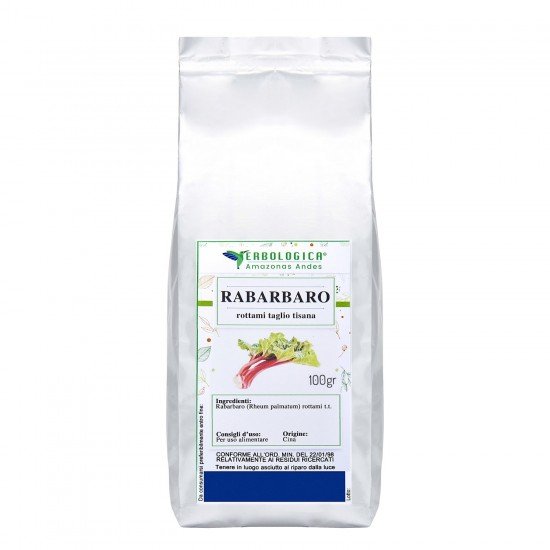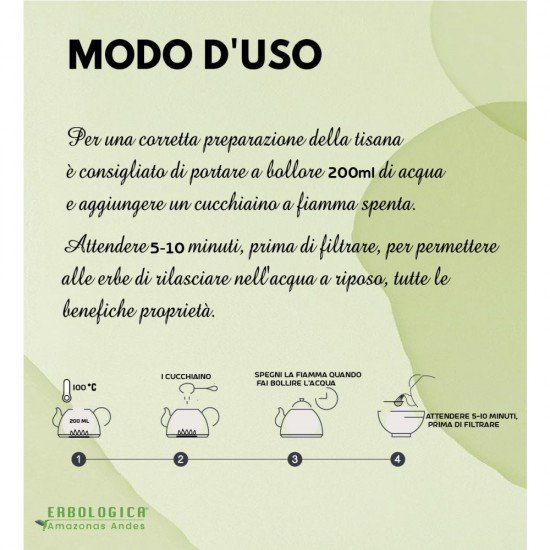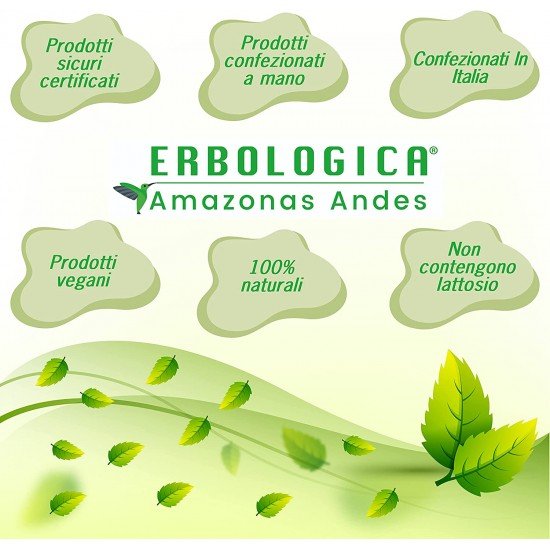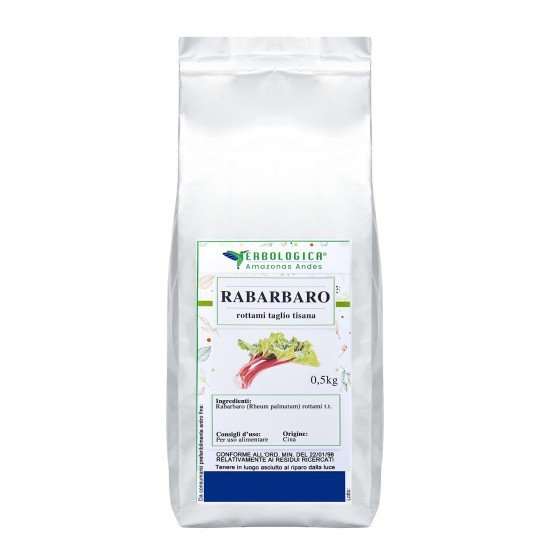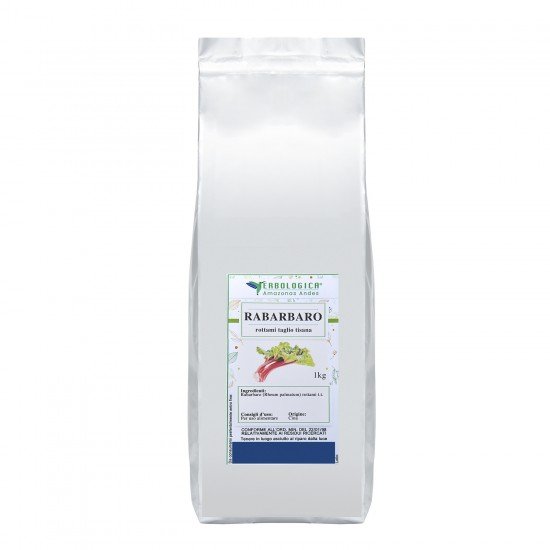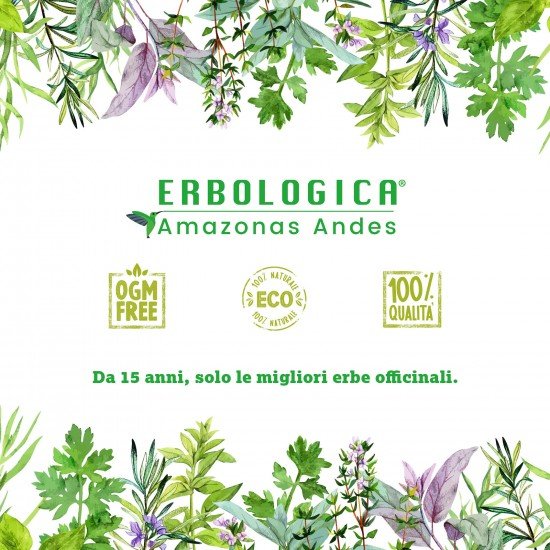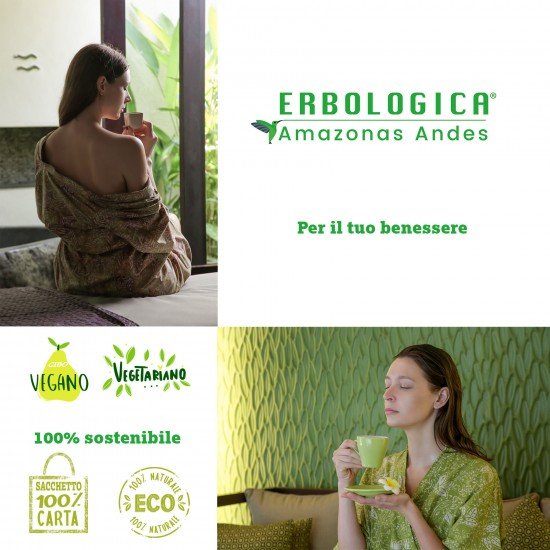 Rhubarb rhizome cut herbal tea
Rhubarb rhizome herbal tea
A tuber that grows wild in our area is rhubarb even though it is native to Asia. Transported to Europe already in ancient Rome. A root that has a sweetish flavor that is sometimes spicy. The two flavors are diversified according to the time of maturation and harvest. There are several recipes that have rhubarb as the protagonist, but its best use is that of herbal tea.

What does rhubarb rhizome herbal tea taste like? It is mistakenly thought that it is very bitter, but it is not. The rhubarb rhizome herbal tea has a sweetish taste that allows it to be drunk absolutely without the support of sweeteners, honey or sugar.

The reason why it is important to consume rhubarb rhizome herbal tea is the awareness that you have a very healthy, very useful digestive that reduces stomach acid by destroying gastric acids. This therefore allows us to always have an ally for our metabolism.

The rhubarb rhizome herbal tea can also be taken cold at the end of a meal instead of liqueur to aid digestion.

Rhubarb herbal tea benefits

One of the characteristics that belong to rhubarb is the presence of rein, a unique and useful active ingredient for our body. The tannins and anthraquinone glycosides stimulate the production of collagen and also of hyaluronic acid. Rhubarb herbal tea has useful benefits for melanin which is well distributed in the skin, thus avoiding the classic age spots. Let's talk about elements that are actually useful to our body.

It should not be forgotten that rhubarb herbal tea benefits that are very useful for the stomach and specifically:

- Digestive action

- Hepatoprotective

- Purgative

- Depurative

- Decongestants

It should be used by children, adults and the elderly who have serious problems digesting food and perhaps even dairy products. Precisely because it allows you to develop good resistance and a large amount of bacterial flora.

The rhubarb herbal tea benefits that are also purifying for the liver and to fight leukemia cells, it is no coincidence that it is recommended to subjects who are undergoing chemotherapy to regenerate cells and have a gastroprotector.

Rhubarb herbal tea how to prepare it

The herbal tea, even if it seems to be an easy recipe, because many think that it is enough to boil it, in reality it has a meticulous preparation. It is easy to cook it by completely burning its essential oils and tannins that distinguish its purifying properties.

How to prepare rhubarb herbal tea to have an excellent digestive? It is advisable to cut the tuber into pieces, if it is fresh, and then cook it over a low flame in a saucepan full of water. The heat will be mild, but it will push the water inside the lymphatic channels and consequently you will have the opportunity to directly release all the useful nutrients.

As for the rhubarb herbal tea how to prepare it if the product is dried, because it is also totally dehydrated, then you must pour the product into a saucepan, simmer first and then raise the flame so that it goes to boil for at least 5 minutes.

Better to filter it immediately so as not to have a loss of some nutrients that return inside the rhubarb.

Rhubarb herbal tea for sale

If you are looking for fresh rhubarb, to make your herbal tea, you can simply buy it in a fruit shop. However, it is a product that has a seasonality to respect, so it is often found dried or even in powder.

The processing must be of herbal origin, that is, where there is absolutely no preservative, so it is advisable to think of the rhubarb herbal tea for sale in herbalist shops, where there are certainly many advantages in terms of quality.

Rhubarb herbal tea for sale online is another physical "place" where you can buy it at any time, when you need it.

Properties: tonic, purgative, antiseptic of the biliary tract, stomachic.

Preparation of the herbal tea:

1 gram in 100 of boiling water, drink 2 cups a day.

Do not use in case of gallstones

Content of 100 - 500 - 1000 grams

Sold by erbologica amazonas andes

Total Reviews (0)
click here write review to add review for this product.