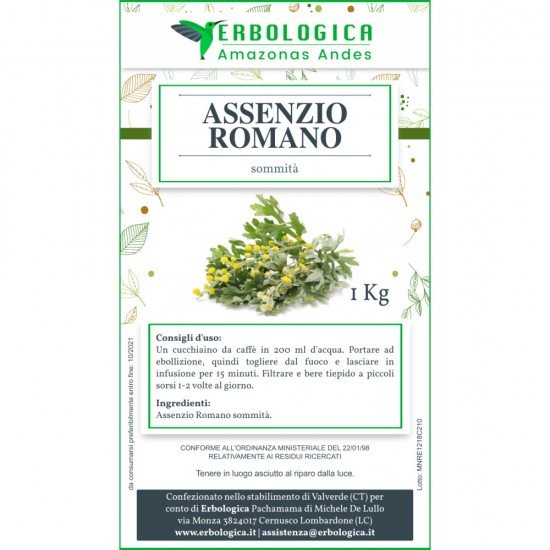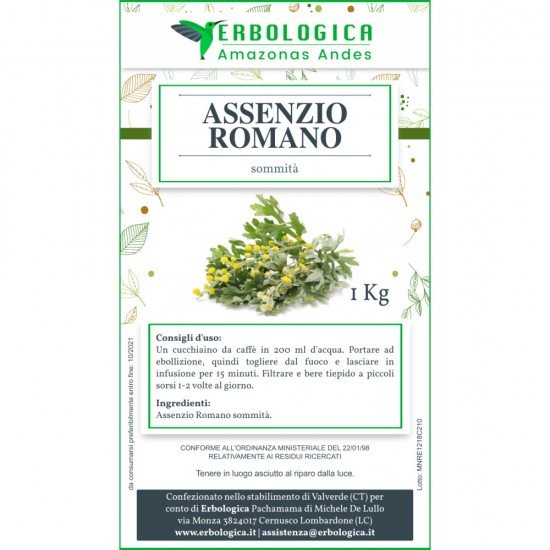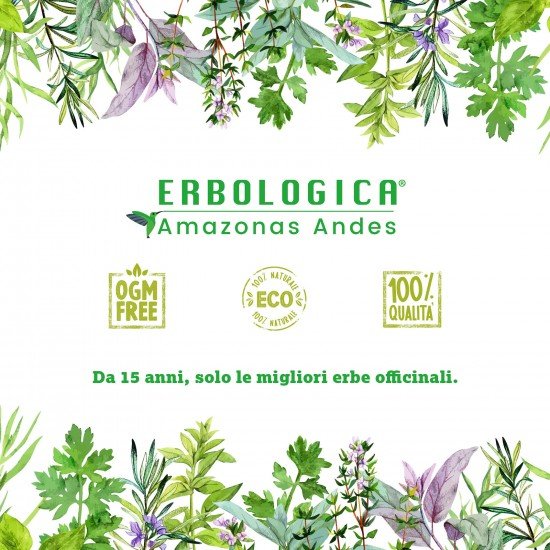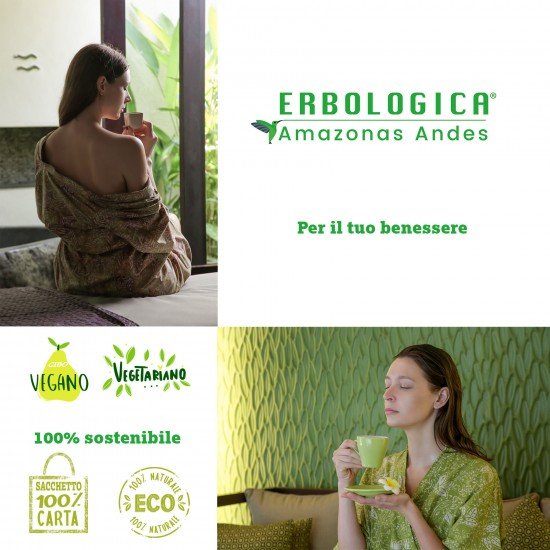 Roman Absinthe herbal tea cut pack of 1 kg
Roman absinthe herbal tea cut
Roman wormwood is a plant that is similar to grass, but with a bush-like shape. It is known because in the past, at least in the 1800s, it was an opiate poison that was "processed" to extract toxins and use them improperly.

On the contrary, precisely because of its properties, Roman absinthe is known for its use in the medicinal field and also for the preparation of a particularly intense distillate. Among other things, to date, it is also used in the preparation of vermouth.

Its medicinal use is very ancient, there is no clear date on which it was discovered, but we actually see it also used in the creation of some medicines. Roman absinthe is normally sold in the herbal sector because it is used as a herbal tea and also to create beauty masks.

Being a herbaceous plant, it has no side effects, only if it is processed and distilled in certain methods, it releases properties that are different.

So let's see how to use it and what are actually the benefits that Roman absinthe offers.

Roman absinthe herbal tea

The use of Roman absinthe herbal tea is very simple. Let's assume that it is a herb that has an intense but very bitter flavor, which is why it is often used with sugar or honey.

The most recommended time to use the Roman absinthe herbal tea is for the treatment of pains caused by the flu, that is, when you have a fever. Once the temperature rises, due to seasonal fevers or even bacteria and viruses, the use of this herb remains highly recommended.

Its properties allow you to regulate body temperatures and act directly on the element that is developing a strong malaise because it has attacked our immune system.

Among other things, one of its best properties is that it is used for menstrual pain and to regulate the cycle. The Roman absinthe herbal tea is used a few days before, so that there is support to relax the ovaries and also the uterus.

Benefits of wormwood

To highlight exactly what benefits of wormwood are offered, we must start with a list of effects that are famous and that have allowed it to be used directly in traditional medicine.

Roman wormwood benefits the liver as it is able to purify it and also increase the production of bile secretion. It regulates the functions of this musculature to be able to eliminate toxins allowing a good flow of blood.

Among other things, Roman wormwood benefits the stomach, digestion and to relieve the hiatal hernia when it is now tense and swollen. A typical problem that is noted in people suffering from reflux, a now fashionable disease, unfortunately we add.

Continuing on the list of beneficial absinthe we find:

- Excellent vermifuge
- Increase appetite
- Check digestion

- Eliminates the feeling of nausea

- Reduces inflammation of the gastrointestinal tract

So it is a very highly recommended herb for natural medicine, but with many properties and zero side effects.

Roman wormwood for sale

Are you eager to buy absinthe, perhaps precisely because you do not want to use or want to stop taking medicines that are not giving you any benefit? So where is it possible to have and find Roman absinthe for sale? Since it is a herb, it is possible that herbalists have it. Unfortunately the absinthe

Roman for sale is not always a very popular commodity, consequently only the most well-stocked herbalists can have it.
However, to be sure of having a good product, which is checked and then tested, then it is advisable to contact the Roman wormwood for sale online, precisely because there are many herbal sites that have specialized in its sale.
Property:

Tonic and stimulating, it promotes digestion, stimulates appetite, promotes bile flow.

How to prepare the herbal tea

A teaspoon in 200 ml of boiling water, let it rest and drink 1-2 cups before meals.

Against intestinal worms, drink a glass of herbal tea on an empty stomach.

Absinthe wine

Great for stimulating appetite and digestion.

It is prepared by adding a handful of Absinthe to a liter of red or white wine, to which yes

adds a glass of grappa.

It is left to macerate for a week, filtered and taken a glass before or after meals.

External use

The decoction heals inflammation of the eyes by washing them 3 times a day and is an excellent vulnerary.

Used for the manufacture of bitter aperitifs and stomach stimulants.

Warnings: do not use in case of gastrointestinal diseases, do not exceed the recommended doses.

Content of 1000 grams

Sold and produced for Erbologica herbalisteria international online.

Certified product and pr