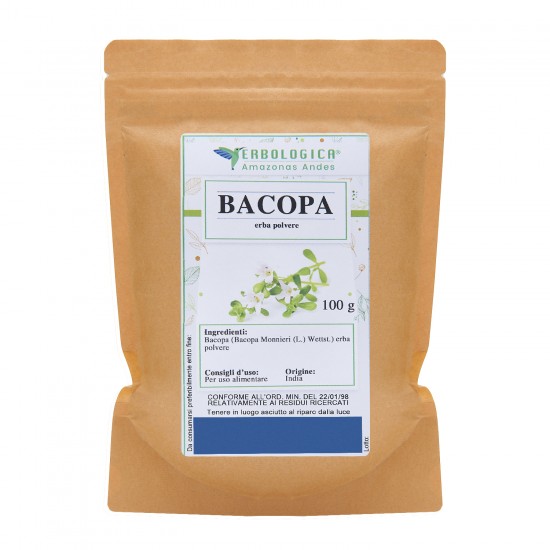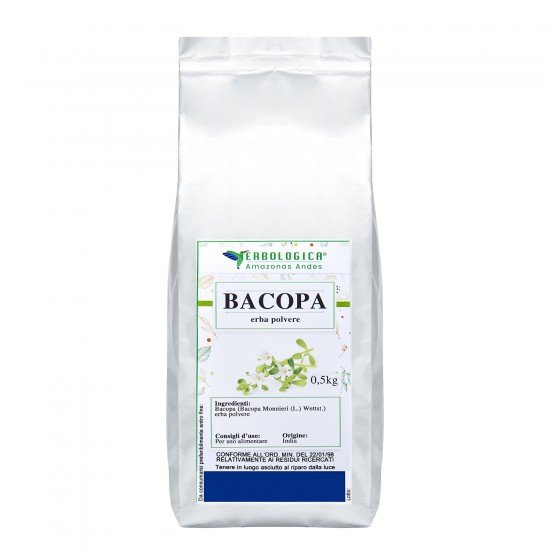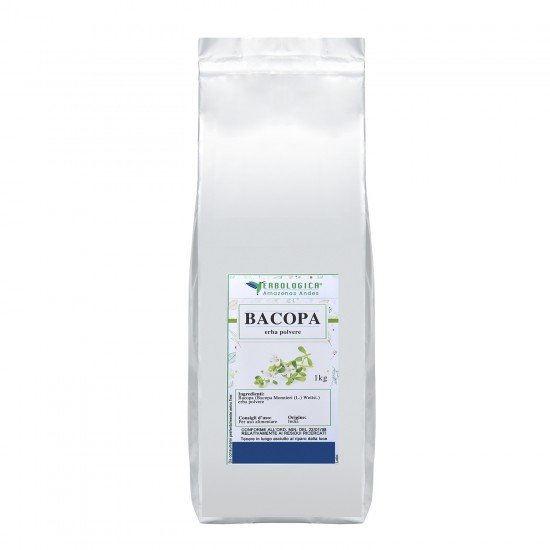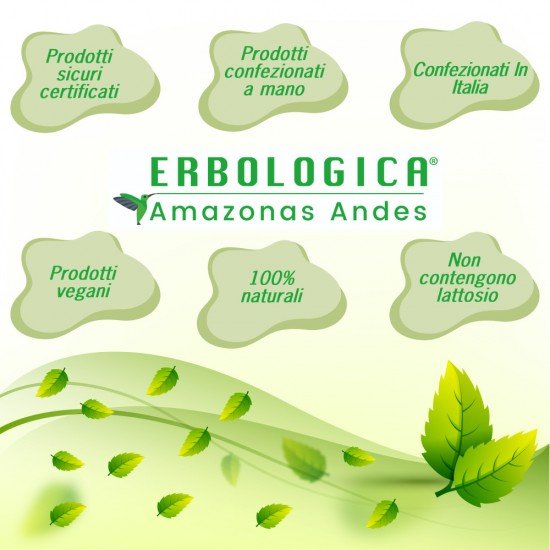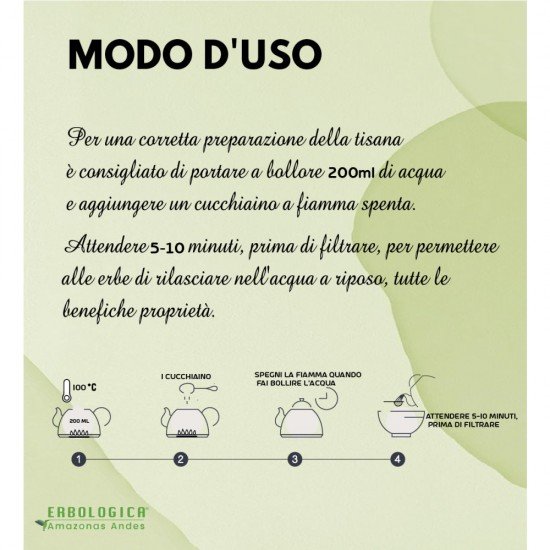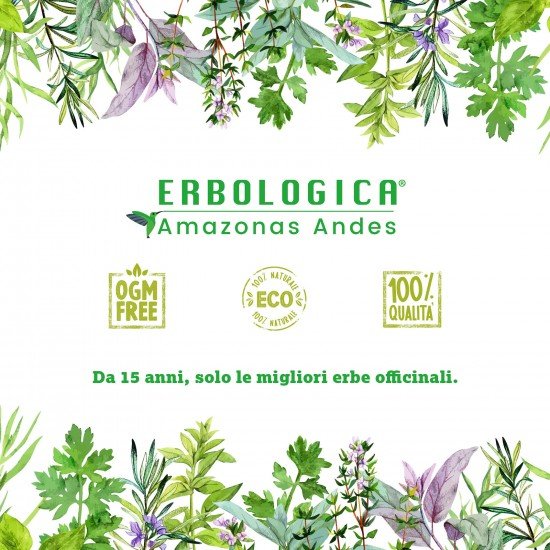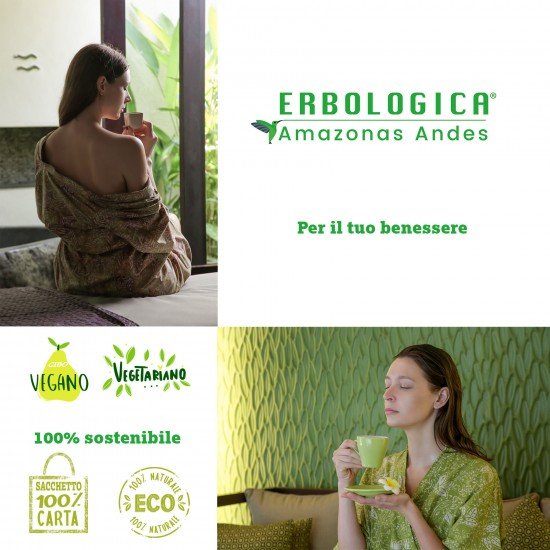 Bacopa herb powder
Bacopa herb powder
Properties and benefits
The medicinal virtues of brahmi or bacopa are mainly based on indications that transcend the Indian practice of Ayurveda, for which there is an important documentary source. On the other hand, several clinical and pharmacological studies are under development which are giving scientific consistency to some of its therapeutic attributions, but among the scientific community there does not seem to be a unanimous agreement on its effectiveness and further evidence is awaited.
We analyze below the main applications and benefits of bacopa for health:
Support to reduce symptoms of Alzheimer's and other old age-related dementias: amnesia, memory loss, confusion, disorientation, difficulty expressing yourself consistently, and so on. Progressive memory loss and disorientation are some of the early symptoms of Alzheimer's disease, also present in other types of dementia. In various experiments with double-blind tests, such as that carried out on patients over 55 years of age with significant memory deficits, who were given half bacopa extract, and the rest, a placebo, better results were appreciated. in the first groups after 8-12 weeks of treatment. They have been observed to be more retentive in capturing new information and a decrease in the tendency to forget in the short to medium term. On the other hand, it didn't show any outstanding effects that aided them in the learning process. It is possible to consult, among others, the abstracts dedicated to bacopa published by the team of Indian nationality formed by Rakesh Tiwari, Kaustubh and others, under the title: Neurocognitive effect of the nootropic drug Brahmi (Bacopa monnieri) in Alzheimer's disease (US National Library of Medicine).
Other sources, however, question its effectiveness as a memory enhancer in elderly people already affected by neurodegenerative processes, but instead they would be guaranteed a certain action on healthy elderly people.
It has also been shown as a memory enhancer in six to eight year olds and as a support for improving hand-eye (hand-eye) coordination movements.
Possible positive effect of bacopa extract to reduce the levels of beta-amyloid protein fiber deposits in the brain, responsible for the degenerative process of the brain mass and the irreversible loss of mental faculties. It would also prevent the spread of already formed plates. This effect would open hope in the fight against Alzheimer's, but more studies are needed to prove its real effectiveness. Information can be found in Bacopa monnieri extract reduces amyloid levels in mice, a mouse study by Holcomb, Hitt et al., Or in Mathew M, Subramanian S. Evaluation of the anti-amyloidogenic potential of nootropic herbal extracts in vitro, published in the International Journal of Pharmaceutical Sciences and Research.
It is also used to relieve nervous indigestion, the presence of gas and constipation.
In China it is taken as a yang tonic to promote fertility.
Bacopa in Ayurvedic medicine is indicated as a useful anti-inflammatory to treat asthma and bronchitis.
In Southeast Asian countries, bacopa is used to treat tropical infections caused by worms.
In the Caribbean, bacopa is used, in the form of a clutch, topically, to relieve joint pain in rheumatic processes such as arthritis.
It has also been indicated as a diuretic active, useful for fighting fluid retention.
Origin India
Packs of 100-500-1000 grams
Ingredients: Bacopa Brahmi leaves powder
Amazonas Andes Herbological Brand
Plants, their extracts and more generally herbal products and food supplements are not medicines or curative products and therefore they are not recognized by law therapeutic properties or ability to cure human diseases. For this reason, all the news and information reported here, in particular those concerning dosages, dosages, descriptions and related properties attributed to the products, are not medical advice but are only for cultural, botanical, historical or health information and they refer to the bibliography reported here. This information does not necessarily derive from clinically proven scientific data, but can also come only from traditional herbal use or from scientifically unconfirmed empirical research, without adequate verification of the correspondence between studies on single plants or ingredients and the real activities of the same on man. For these reasons, the information given here cannot in any case replace the opinion of a doctor or other health professionals legally authorized to practice, they must not be used.
Total Reviews (0)
click here write review to add review for this product.