03 Nov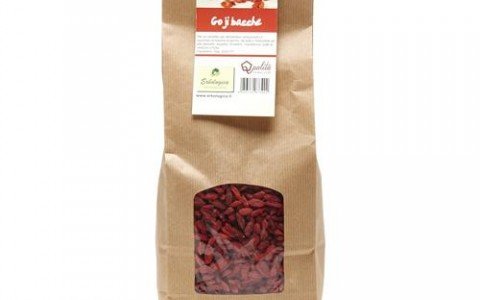 Posted By
0 Comment(s)
623 View(s)
Goji berries
Goji Berries have recently become very popular in Italy especially for their antioxidant characteristics, in reality however, in the East they have already enjoyed a reputation as an elixir with numerous beneficial properties for millennia. Goji Berries grow on the heights of the Himalayas, on uncontaminated land subject to high temperature changes, and it is a natural and pure product.
The Properties of Goji Berries
Goji Berries are recognized for their bright red color and are rich in many nutrients such as proteins and carbohydrates, but also sodium, calcium, sugar, phosphorus, potassium, manganese, lipids, magnesium, chromium, vitamins C, E and B1, carotene, amino acids, fibers, lutein and germanium. Therefore, given the richness of nutritional properties, it is not surprising that they lead to countless health benefits. Goji berries are ideal for reducing bad cholesterol and keeping blood pressure in check. They also help regulate metabolism. The high content of vitamin C contained in Goji berries is much higher than that found in oranges. For all these reasons, Goji berries are an exceptional element to add to a healthy diet.
What is the Recommended Daily Dosage
Goji Berries 5 kg Although Goji Berries are an extraordinary food it is always good to avoid abusing them and keep under control the daily amount that is used. As a general rule, it can be said that, for an adult, about 30 grams (three tablespoons) per day is enough; while 20 grams are enough for children. In any case, it is good to remind all those who follow a specific diet or take coagulating drugs, to always consult their doctor or dietician if they decide to add Goji berries to their diet. Anyone with a tomato allergy should definitely avoid eating Goji berries. Goji berries are usually sold dried, and have a sweet and sour taste, they can be added to muesli or yogurt, but also to salads and soups or they can also be eaten alone as a snack.
Goji Berries for Weight Loss
Goji Berries 500 grams Goji Berries are very rich in many nutritional values, which they contain in their small size. Therefore a few are enough to receive an important contribution to one's nutrition. This means that although there is not exactly a direct relationship between taking Goji Berries and weight loss, they can be a powerful ally in a healthy and light diet for weight loss. The rich taste together with the high fiber content gives a sense of fullness that helps to avoid overeating and therefore gain excess pounds. Furthermore, many dieticians believe that having a light but healthy snack, thus choosing natural and quality ingredients, helps to keep fit even at the table. So for this reason it is good to always keep a small supply of Goji Berries on hand to quench that slight hunger that suddenly seizes us.