04 Oct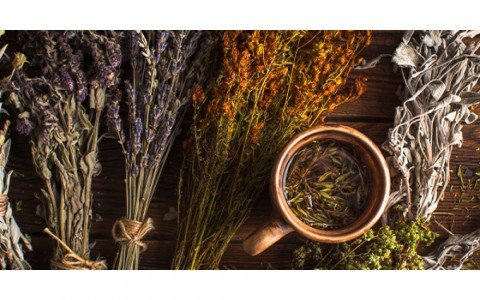 Posted By
0 Comment(s)
398 View(s)
The month of October marks the beginning of the transition season between summer and winter. It is a period of the year in which both nature and our bodies prepare themselves to better deal with colder climates. It also represents the perfect time to strengthen, purify and relax with the help of medicinal herbs.
In this article we present the most suitable medicinal herbs for this period. Let's find out what they are and what benefits they offer.
Medicinal herbs to strengthen the immune system
With the change of season and as the cold progresses, the first symptoms of a cold and the first flu appear. These are seasonal ailments that you can prevent thanks to the correct and careful daily hygiene, but also thanks to some effective natural remedies to increase the immune system and counteract unpleasant symptoms.
Here are some medicinal herbs that may be of help to you.
• Echinacea: especially useful after a seasonal ailment, such as a cold or sore throat. It is useful for strengthening the immune defenses of adults and children.
• Uncaria: known as "cat's claw" is one of the medicinal herbs known for its excellent virtues useful for strengthening the immune system especially in the coldest periods.
• Astragalus: it is one of the excellent medicinal herbs for strengthening the immune system and counteracting the feeling of tiredness that appears during seasonal ailments. It is frequently used in the form of powder to prepare infusions and herbal teas.
• Schisandra: it is rich in vitamin A and vitamin E, also appreciated by children, useful for strengthening the immune system and recovering from the feeling of tiredness.
• Eleutherococcus: also known as Siberian ginseng, it strengthens the defenses and offers an herbal tea that balances your energies, helping you to recover from physical and mental fatigue.
Medicinal herbs to purify yourself of toxins and waste
The month of October also represents the period indicated to purify your body. With the help of officinal herbs, you can rid the body of toxins and waste accumulated with stress, nutrition, seasonal changes, pollution or harmful habits. Medicinal herbs naturally help to relieve discomfort such as swelling, a sense of heaviness or indigestion.
Here are some medicinal herbs that may be of help to you.
• Artichoke: a purifying medicinal herb rich in vitamins, antioxidant and detoxifying ingredients for the liver and also helps to increase the defenses of the immune system.
• Milk thistle: its fruits, rich in detoxifying and protective properties for the liver, are ideal for a purifying herbal tea for the body.
• Dandelion: useful as a natural remedy to purify the liver and kidneys, but also to promote digestion and counteract water retention.
• Nettle: the aerial part of this medicinal herb is known for its diuretic and purifying function.
• Fennel: it is known to promote the well-being of the intestinal system thanks to its natural carminative function.
Medicinal herbs to promote relaxation
In the month of October they cannot mark medicinal herbs with calming properties. The change of season can be stressful for our body and lead to greater accumulation of stress, fatigue and nervousness. To help you sleep better and give yourself a moment of relaxation, here are some useful medicinal herbs.
• Chamomile: traditionally used for good sleep and quality sleep. A truly versatile herb, it is also useful for digestion and in case of seasonal ailments.
• Lemon balm: always known for its calming properties, it is excellent for a relaxing herbal tea useful for helping sleep.
• Passionflower: used above all for its sedative properties which help to calm agitation. Naturally contributes to quality sleep.
• Valerian: a well-known natural remedy to counteract anxiety and stress, promotes a sense of relaxation and helps sleep.
• Lavender: a very fragrant, calming and relaxing medicinal herb, used to help relieve anxiety and mild insomnia.
On Erbologica we offer a wide selection of officinal herbs, find the right one for you at this time of year.
The information contained in this article is given for the sole purpose of information and does not in any way replace the prescription of a doctor. We recommend that you consult your doctor and / or specialist regarding any doubt or indication.