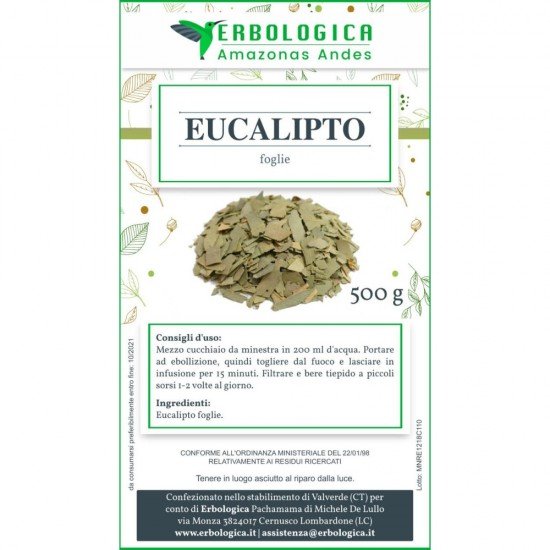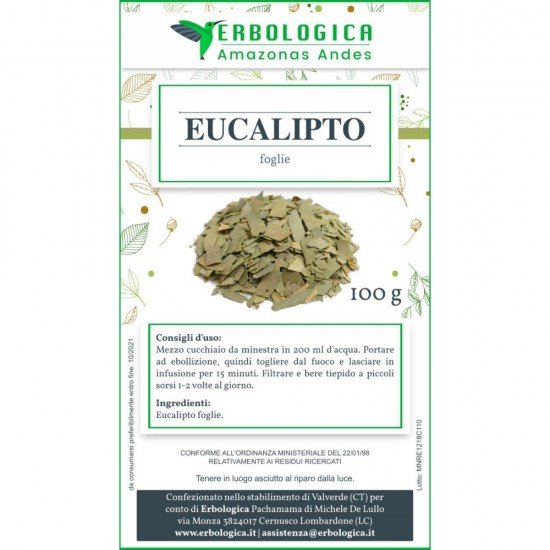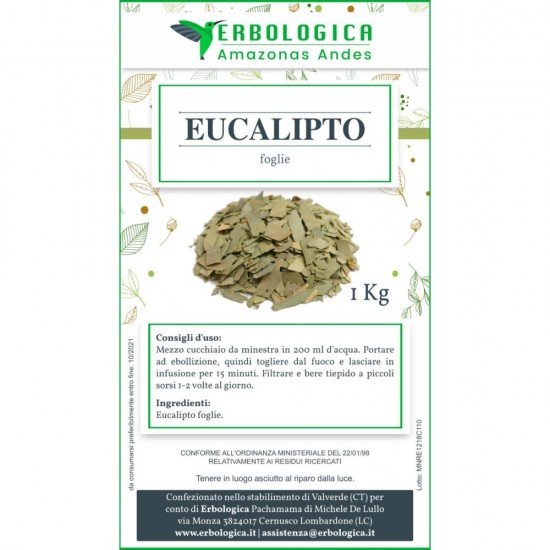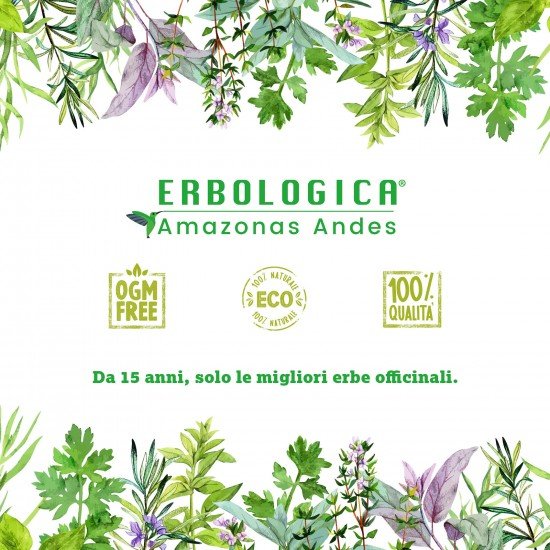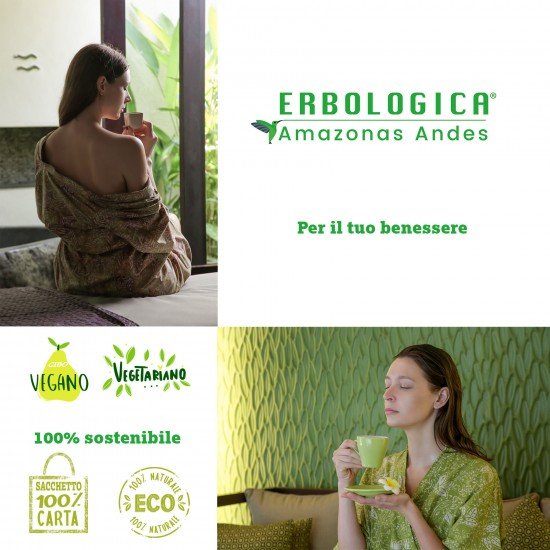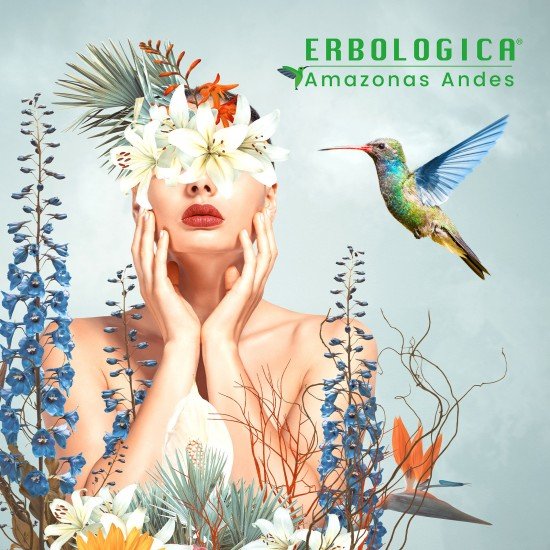 Eucalyptus leaves herbal tea 500 grams
Eucalyptus herbal tea
The eucalyptus herbal tea has a flavor that, contrary to popular belief, is not "fresh" like mint, but very particular. This is not to say that it is very sweet, practically, at the first sip there is a sensation of sweetness, then of balsamic. In fact, when starting to take, many users have stated that it is like drinking two different drinks.

The eucalyptus herbal tea becomes a useful element also with regards to the possibility of an "alternative drink". It is not necessary to take it only when you have some discomfort, it also helps in the prevention of flu states. It certainly remains very pleasant to drink, but it is nevertheless a herb that we recommend trying because it is truly unique.

Eucalyptus properties and benefits

Why is eucalyptus very famous properties and benefits? Mainly it is also known as the unique food of the Koala bear, but in reality it immediately became the protagonist of many medicines that, even today, are able to provide a valid cure for lung problems.

Eucalyptus properties and benefits have always been known in traditional aboriginal medicine. Inside we find a balsamic action that helps to lubricate the respiratory tract, eliminates the secretions of phlegm, relieves the problems caused by oily and dry cough.

he active ingredients, such as pinene, camphene, aldehydes and polyphenols, are found in only very few plants and among these we find eucalyptus properties and benefits aimed at colds and sinusitis.

Eucalyptus herbal tea for sale

Currently, the eucalyptus plant has also become widely used in Italy, there are also natural crops that allow for an alternative, internal sale, without requiring any export from abroad.

In any case, the eucalyptus herbal tea for sale in a herbalist's shop is certainly a product of excellent quality and of controlled origin. To reap the maximum benefits, the origin and freshness of the product must be evaluated.

The eucalyptus herbal tea for sale on the internet offers the possibility of always having a product that is of high quality and, at the same time, also from different locations worldwide. What do we want to underline with the last statement? In practice, this herb can come directly from Australia or simply from Italian crops, but only on the internet can we have this choice.

Eucalyptus herbal tea how to use them

Eucalyptus herbal tea, how to use them and for which diseases. First of all the leaves and also the fruits, that is the seeds, can be boiled for about 5 minutes, where they release a balsamic scent that is excellent for releasing

the respiratory tract. Indeed, thanks to these "fumigations", the capillaries in the nostrils become much more resistant to ensure excellent breathing.

Once the water has boiled for 5 minutes, this herbal tea is drunk directly. Another method for "cooking" the herbal tea is the one that directly concerns pouring boiling water over the herbs and leaving them to infuse. In this way, the internal active ingredients remain unaltered.

For eucalyptus herbal tea, how to use them on certain diseases, it is advisable to take one cup a day and not to exceed it even if you are subjected to colds or even fever.

Eucalyptus herbal tea

Herbs, to be good to use for a homeopathic or in any case completely natural treatment, must be purchased in a herbalist's shop or in any case on websites specialized in the herbal sector.

Eucalyptus herbal tea is certainly one of the best products we can find on the market. Its drying is guaranteed by various methods that can only be appreciated in herbal medicine. This is why you must evaluate a possible direct purchase in herbal medicine.

However, not all of these physical stores can really have a good supply of this product and, in view of this scarcity, the virtual herbal tea eucalyptus can still be very satisfying.

Eucalyptus leaves herbal tea 500 grams

Properties: they are balsamic, sedative, antiseptic, fight fever.

Used to combat bronchitis, asthma, catarrh, chest angina.

Preparation of the herbal tea: a teaspoon in 200 ml of boiling water, let it rest

for 5 minutes, drink 2-3 cups a day.

The infusion with 7 grams in 150 of water ideal against diabetes.

External use:

the decoction with 5 to 100 grams of water is used to heal and clean wounds.

Inhalations: Breathing the smoke of the leaves in boiling water calms asthma and cough.

Eucalyptus wine: it is obtained by macerating one part of the leaves in 5 of wine or Marsala for 20 days.

The juice obtained is taken in small glasses.

The ashes of the leaves are used to perfume the environment.

Contraindications: do not use in case of biliary or gastrointestinal inflammations.

Content of 500 grams

Sold by herbal amazonas andes international herbalist