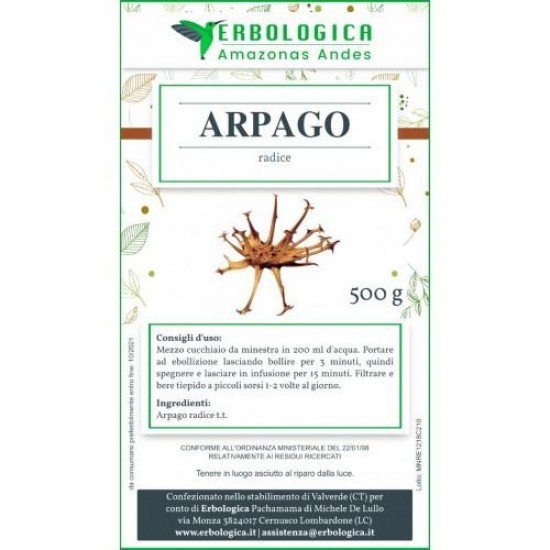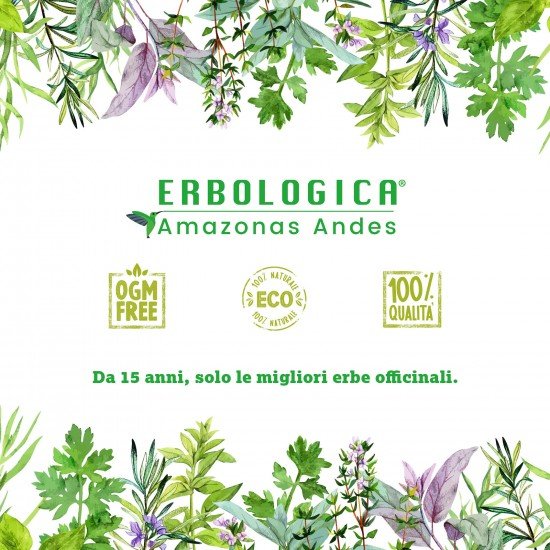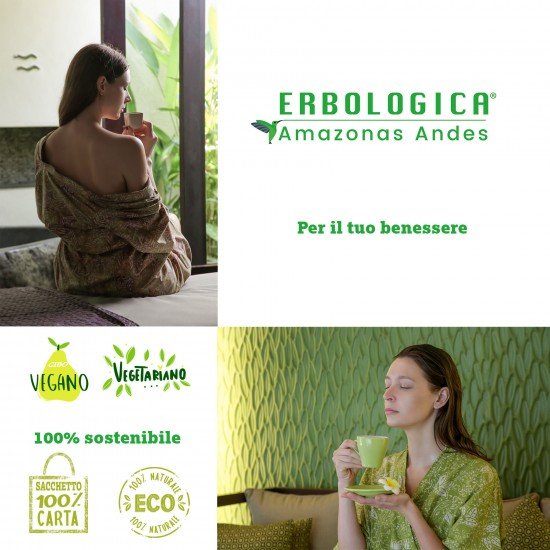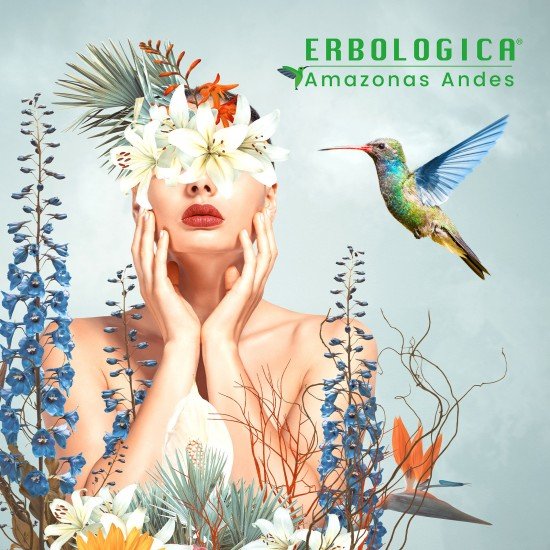 Devil's claw root 500 grams
Devil's claw root herbal tea
A particular flower, which however has also inspired several stories and legends, is the devil's claw, where the root is mainly used. This part of the plant is the one that offers a series of active ingredients and also of medicinal elements that are among the best.

The Devil's Claw root herbal tea still has a flavor similar to that of licorice, but with peaks that are tart, but also very pleasant. Once you savor a few sips, you immediately have a palate that remains fresh, but not as if you were talking about mint. The Devil's Claw root herbal tea has a very particular flavor that is absolutely recommended to try.

There are two types of people in the world who make a firm choice about this type of weed, those who love it and those who hate it, but when they have to use it as a cure, they tolerate it.

Like everything, even the flavors depend on those who have a very "sugary" diet and those who have a more natural diet. The latter greatly appreciate the Devil's Claw root herbal tea.

Devil's claw root property

The reputation of the Devil's Claw root anti-inflammatory and pain-relieving properties have increased precisely because it is used for the treatment of problems and diseases that often affect and affect the elderly. In fact, in the use of the Devil's Claw root sedative properties, we find a wide use precisely for rheumatic pains, joint pains and diseases affecting problems with the bones or tendons that connect them.

There are many ointments and drugs based on Devil's Claw root with different properties, but which have a common goal.

At this point, precisely for those who do not always like to take drugs that alter the intestinal flora or who in any case have to suspend this use for a period, here is the possibility of using this herb as decoctions, herbal teas and infusions.

Devil's Claw root properties that are certified and therefore you can always test the effects directly on yourself in order to understand which quantity is most useful to you.

How to prepare the devil's claw root herbal tea

The devil's claw root is available in natural form, that is, in the form of dried root, or even in powder. The question is obvious: how to prepare the Devil's Claw root herbal tea?

If you are using this powder product, then it is recommended that you dissolve it in hot water. Attention we are talking about hot water and not boiling water. If you use to boil devil's claw root powder, you simply risk damaging the active ingredients and also making the taste bitter.

How to prepare the Devil's Claw root herbal tea in natural form? In this case it is advisable to boil this root directly in boiling water for at least 5 minutes and then filter it. Here it is ready to drink.

Devil's claw root herbal tea for sale

Devil's Claw root herbal tea for sale is not easy to find because it is a herbal plant that is already very special. It is used in many creams and other pharmaceutical products, but if we are looking for it in the "natural" state, then we must only contact a herbalist or even an e-commerce site specializing in the sale of these particular herbs.

When deciding to use any devil's claw herb, both in leaves and roots, there should still be a choice of a fresh herb that is free of preservatives. The choice of online use is certainly the most suitable for anyone who wants to try a fresh and guaranteed product.

Devil's claw root 500 grams

Other names: harpagophytum procumbes

Properties: antirheumatic, antidiabetic, fights arteriosclerosis, liver diseases,

kidney and bladder.

Regular use decreases rheumatic pain, particularly in the elderly and from

to the patient a sense of general well-being and greater vitality

Preparation of the herbal tea:

a teaspoon of root in 300 ml of boiling water and leave to infuse overnight.

Drink one cup 10 minutes before meals.

Ingestion can be done both hot and cold.

Contents: 500 grams of devil's claw root.

Brand: Erbologica Amazonas Andes