30 Aug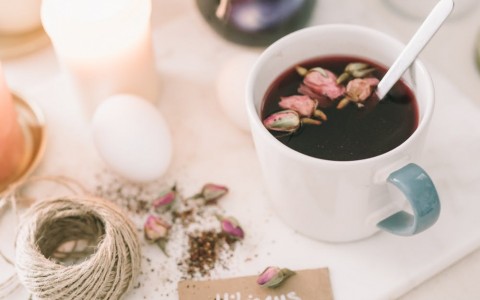 Posted By
0 Comment(s)
725 View(s)
Karkadè has been used for centuries in traditional medicine.
In fact, the word "karkadè" derives from Arabic and means "red cedar", testifying to its origins in the Middle East.
Today, this herbal tea is gaining popularity among naturalists and healthy living bloggers due to its unique taste and impressive list of benefits.
Karkadè is an excellent source of vitamins A and C, as well as iron and zinc.
It also contains carotenoids, plant nutrients that provide the red or orange pigment found in tomatoes, carrots, sweet potatoes and other vegetables.
In this post you will find out everything you need to know about the benefits of karkadendron herbal tea, where to buy it (in stores or online),
how to prepare it at home or at work, which drinks to combine (or avoid) and some curiosities about this new super drink.
Benefits of karkadè herbal tea
Karkadè herbal tea is appreciated for its multiple health benefits, including:
Protect your eyesight
The antioxidants contained in karkadè help protect eyesight from damage caused by aging.
Studies show that these antioxidants can even slow vision loss in those who are genetically predisposed to macular degeneration.
Helps fight inflammation
Karkadé's abundance of antioxidants can help relieve symptoms related to arthritis and other inflammatory conditions.
When consumed regularly, these antioxidants can also help prevent future inflammation.
Strengthens the immune system
The antioxidants present in karkadè can give energy to the immune system, helping it to fight bacteria, viruses and other pathogens.
Great for skin and hair
The high levels of iron, zinc and carotenoids in karkadè promote healthy skin and hair.
Other benefits
Karkadé tea also contains a significant amount of vitamin A, which is essential for eye health and which plays a role in other bodily processes, such as reproduction.
Vitamin C is another important component of this herbal tea's benefits, as it is an essential nutrient that helps fight disease and promotes skin health.
Where to buy the karkadè herbal tea
Karkadè herbal tea can be found in most grocery stores, both in the tea department and in the health food department.
Depending on where you live, it can also be called "red karkadè tea" or "karkadè tea".
If you want to buy karkadè wholesale or want to try a variety of different herbal teas, you can also find karkadè online.
Many health food stores and online vendors offer a variety of herbal teas; be sure to read the product description carefully to determine if it is indeed karkadè!
How to prepare karkadè herbal tea at home or at work
Many people like to make karkadè at home. The hottest brewing method is on the stove, but you can also do a cup steeping method (covered, with a spoon in the cup).
To prepare the karkadè for work, you can use an infuser (tea ball), or you can put the loose leaves in a mesh bag.
Another option is to use a cold brew method, which can take 8 to 24 hours.
Just put the karkadè leaves in a jar, add water and leave the jar in the refrigerator for a few hours (or overnight).
When preparing the karkadè tea, you need to use a tablespoon of karkadè leaves for each cup of water.
You can also adjust the amount of karkadè leaves according to your preferences: the more leaves you use, the stronger the herbal tea will be.
In conclusion
Nobody can say that karkadè tea tastes good.
It is bitter, salty and undeniably earthy.
But don't be put off by the flavor: karkadè tea is a powerful superfood rich in vitamins and minerals.
Also, if you enjoy a cup of karkadè, you have earned it.
You have defeated the taste, you have won the challenge and you have earned the health benefits.
Now you know everything there is to know about the benefits of karkadè herbal tea, where to buy it (in stores or online), how to prepare it at home or at work,
which drinks to combine (or avoid) and some curiosities about this new super drink.