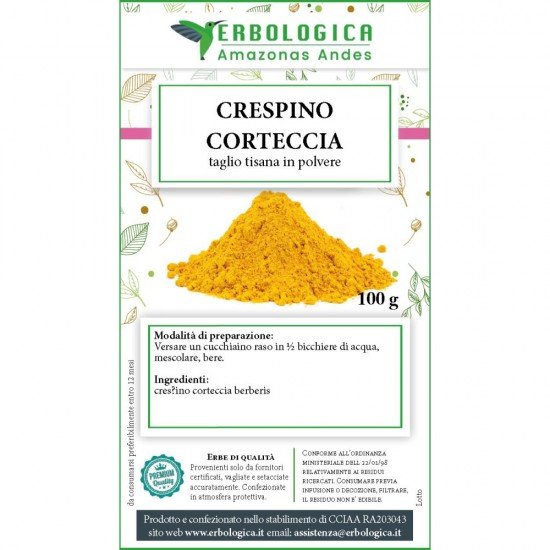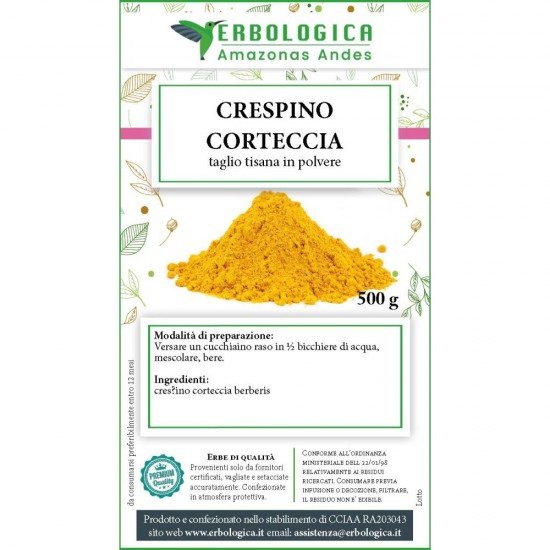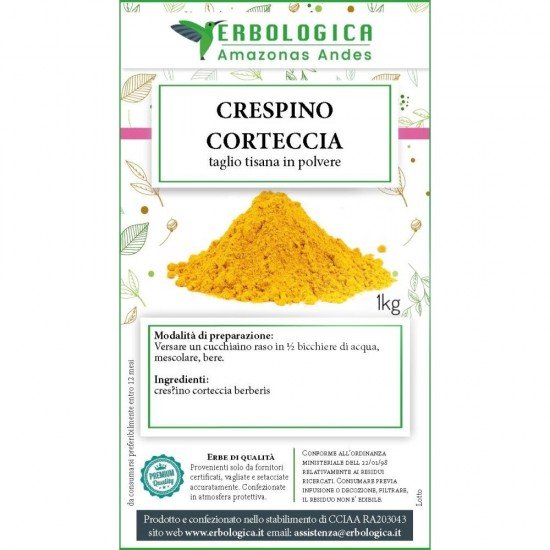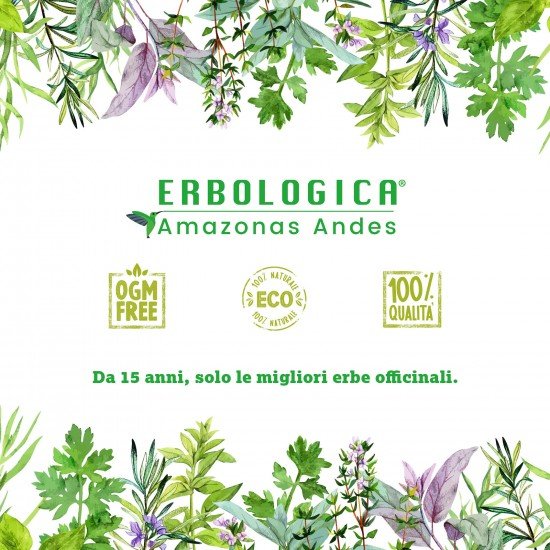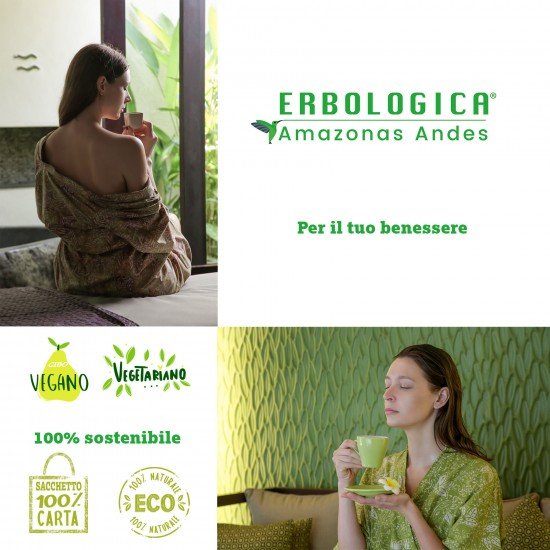 Barberry bark powder
Barberry bark powder
Barberry is a plant source of various active ingredients, essential oils and vitamins. Usually the fruits, the bark and the roots are used. In the powdered barberry bark there are also chemical constituents that are important for the organism and for the internal muscles.
Its taste is bitter, so we don't think of the sweetness of the willow or the laurel plant. Nonetheless it is perfect as an ingredient for some recipes, which are especially with meat, or even for herbal tea.
Powdered barberry bark is a tonic. It is used both in summer and in winter, but also in other seasons, to have purifying actions for the liver, stomach and colon. Indeed, barberry bark powder is a herbal element with great qualities.
Barberry bark benefits
The chemical components of the barberry bark have benefits aimed at purifying and disinfectant action, but it is an understatement to say that it helps to pee, because in reality its use is much better than what you think.
Polyphenols and alkaloids, such as berberine, berbamine and magniglorin, oxygenate the blood. By helping the elimination of toxins that stagnate or make platelets and red blood cells dense, in order to have a greater presence of oxygen, the blood becomes more fluid as it flows faster through the veins.
We emphasize that however, the barberry bark benefits that are also cardiorespiratory by decreasing the problem of capillary fragility. In the past it was used for the treatment of coronary arteries and for attacks on aneurysms.
Rich in vitamin C, barberry bark also benefits the immune system. It increases the absorption of iron, therefore it is also indicated for anemic subjects and has chlorogenic acid. A herbal food that has always been included in the categories of medicinal plants.
Its best advantage is that it is one of the best diuretic stimulants on the market. This helps to have a total purification and eliminate inflammation.
Barberry bark powder how to use it
The question that many users ask themselves, when they have to use herbal and plant powders, always concerns the intake. How to use barberry bark powder to help the body? The first uses are those of a decoction, an herbal tea or directly in meat seasoning sauces. In fact, the juices from the meat tend to be very useful in decreasing the bitter taste of the bark.
For barberry bark powder, how to use it differently from herbal teas, then it is possible to create a syrup with dissolved water and sugar, so as not to suffer from the problem that expressly concerns the bitter taste, or even in the creation of do-it-yourself liqueurs.
We therefore see that its use can become a daily occurrence, but be careful that there are also side effects, such as barberry poisoning with the appearance of rashes or shortness of breath.
Barberry bark powder for sale
In the Middle Ages, until the early 1900s, medicinal herbs were purchased in drugstores and pharmacies which had and used only certain chemical elements, but with a prevalence of natural extracts.
Today, with commercial use and increasingly industrial and artificial products, when one is looking for herbal products, one never knows who to turn to. For this the question of knowing the barberry bark powder in direct sales, where does it become feasible? Indeed we see that only some herbalists specialized in the homeopathic sector can have the barberry bark powder for sale to the consumer.
Alternatively, you can try well-stocked pharmacies that sell a good quality product, in order to remain unchanged both the fragrance and the internal benefits. Finally, with the world of e-commerce continuing its rise, it should not be forgotten that the barberry bark powder for sale online could be the solution that is always available. Barberry bark powder
Other names
holy thorn, berberis vulgaris
Benefits
Antiseptic, regulates heavy menstruation, antiseptic, hemostatic.
Preparation
1 gram of powder per dose.
Indicated for dysentery and stimulating liver functions.
Warnings
Do not use if you are pregnant or breastfeeding, do not exceed the indicated doses, keep out of the reach of children.
Our herbs are packaged in a protective atmosphere or in a vacuum to preserve the active ingredients naturally contained in the plant from oxidation
The product is COMPLETELY NATURAL and NO GMOs. The residue is not edible.
Erbologica offers herbs of traditional cultivation and guaranteed and certified wild herbs
Only safe and effective products.
Before being placed on the market, the products must pass a careful microbiological analysis, of pesticides, heavy metals, radioactivity and aflatoxins. Once all these tests have been carried out, the products pass our quality control and are marketed.
N.B. The product can also be consumed cold and retains its properties unchanged.
Please note
Plants, their extracts and more generally herbal products and food supplements are not medicines or curative products and therefore they are not recognized by law as having therapeutic properties or the ability to cure human diseases. For this reason, all the news and information reported here, in particular those concerning dosages, dosages, descriptions and related properties attributed to the products, are not medical advice but rather have only cultural, botanical, historical or health-related dissemination and information purposes and refer to the bibliography reported here. This information does not necessarily derive from clinically proven scientific data, but can also come only from traditional herbal use or from scientifically unconfirmed empirical research, without an adequate verification of the correspondence between the studies on individual plants or ingredients and the real activities of the same on the man. For these reasons, the information contained herein cannot under any circumstances replace the opinion of a doctor or other legally qualified health professionals, and must not be used to make decisions regarding one's health, any medical therapies or taking medicines. In no case do supplements replace a balanced diet and a healthy and controlled lifestyle. In the event of sensitivities or allergies to specific ingredients, it is essential to request confirmation of the ingredients or the INCI indicated on the site prior to the purchase, by e-mail, to make sure that there have been no subsequent, not yet updated changes. In the event of ailments, pathologies or allergies, always consult your doctor first.
Contents 100 - 500 - 1000 grams
Total Reviews (0)
click here write review to add review for this product.