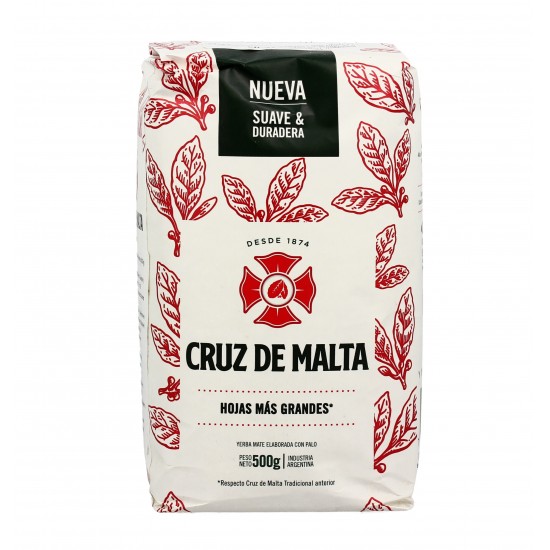 Out Of Stock
Yerba mate cruz de malta
Yerba mate cruz de malta
Yerba mate is a traditional South American drink that has become popular around the world in recent years.

In places like Argentina, Paraguay and Uruguay it is commonly served as a drink after meals or as a "third cup",
a custom believed to bring good luck and health.
In its region of origin, yerba mate is typically served freshly made from a hollow gourd with a silver straw called a "bombilla".
The combination of these two accessories is referred to as "criollo" yerba mate, which has distinct advantages over other methods of administering this invigorating drink.
Yerba mate leaves are rich in antioxidants and have been shown to reduce stress, improve digestion and provide energy, especially when consumed as part of a healthy diet.
What is yerba mate?
Yerba mate is a traditional South American drink made from the leaves of the yerba mate plant.
There are about 60 species of yerba mate plants, but only three are grown commercially for tea production.
Yerba mate is often compared to tea, but the two drinks have different characteristics.
Tea is obtained by steaming the dried leaves of the Camellia sinensis plant, while yerba mate is obtained by steaming or
from the boiling of the freshly harvested leaves of the Ilex paraguariensis plant.
Although both yerba mate and tea contain polyphenols and antioxidants, yerba mate has a higher concentration of these substances.
The leaves can be dried and sold as yerba mate tea or kept fresh and used to make yerba mate tea.
Why drink yerba mate
Yerba mate criollo is a freshly prepared non-alcoholic drink.
Unlike herbal mate tea bags and bottled yerba mate blends, criollo yerba mate is made from leaves
freshly harvested for a full-bodied flavor and maximum nutritional value.
Yerba mate is ceremonially prepared in a hollow gourd with a silver straw.
This traditional service method is believed to have originated from the Guarani people of Paraguay.
Because yerba mate criollo is freshly made, it contains a higher level of antioxidants than commercial yerba mate blends.
Yerba mate criollo has a high concentration of polyphenols, which have been shown to reduce stress,
improve digestion and increase energy when consumed as part of a healthy diet.
Equipment needed to prepare yerba mate criollo
Pumpkin or pitcher
A pumpkin with a volume of two or three liters is ideal for two or three people.
Pumpkins with narrow openings are best.
Pumpkins can be ceramic, plastic, or wood.
One pitcher is suitable for one person only.
Bombilla del mate
The preferred material is silver.
Fork
A slightly curved fork with a long handle is recommended.
How to prepare yerba mate
For two or three people, use two large tablespoons of yerba mate per liter of water.
For one person, use a large spoonful per liter of water.
The smaller amount will produce a smaller but still tasty and nutritious brew.
First, wash the pumpkin and bombilla by hand.
Warm water and a mild detergent are sufficient.
Then pour the desired amount of yerba mate into the pumpkin, followed by the desired amount of water.
Leave to infuse for three minutes, then pour the drink into the pumpkin.
Preservation and service of yerba mate criollo
Freshly prepared yerba mate is best consumed within 24 hours, refrigerated in a closed container.
Store yerba mate in a cool, dark place away from direct sunlight.
For serving, pour the desired amount of yerba mate into a teapot or pitcher.
At the table, pour the yerba mate into a pumpkin with the narrow opening facing up.
The narrow opening prevents the leaves from entering the pumpkin.
Use the same bombilla for each person at the table.
Rinse the bombilla between one glass and another and replace it after two or three uses.
Conclusion
Discovering the health benefits of yerba mate can come as a pleasant surprise.
This traditional South American drink is enjoyed by millions of people around the world.
When making yerba mate, remember that freshly picked leaves are more nutritious and flavorful than dried ones.
To fully enjoy yerba mate, prepare it in the criollo style, according to the South American tradition.
Pack of 500 grams
Marca Cruz de Malta
Total Reviews (0)
click here write review to add review for this product.