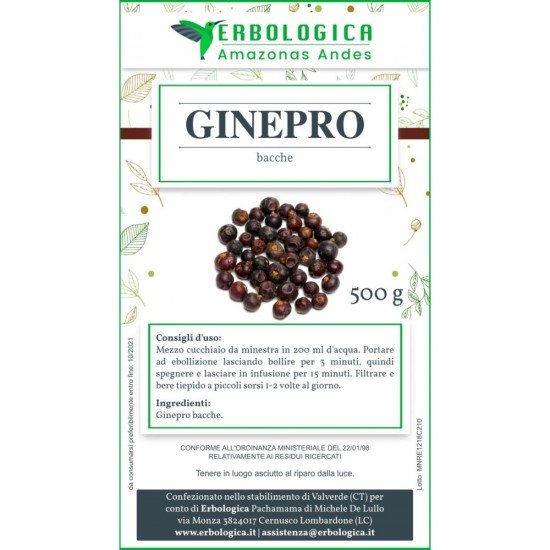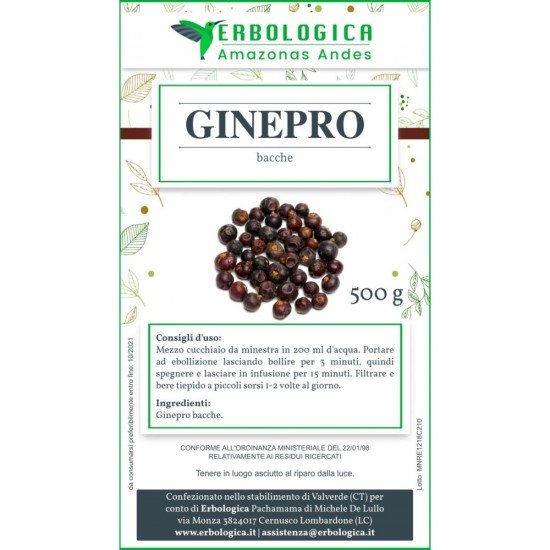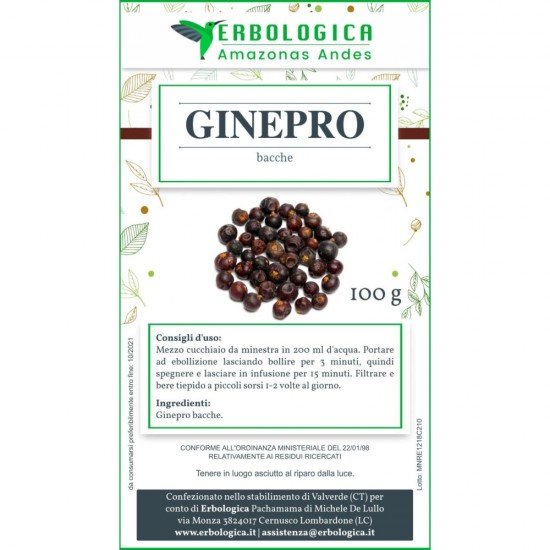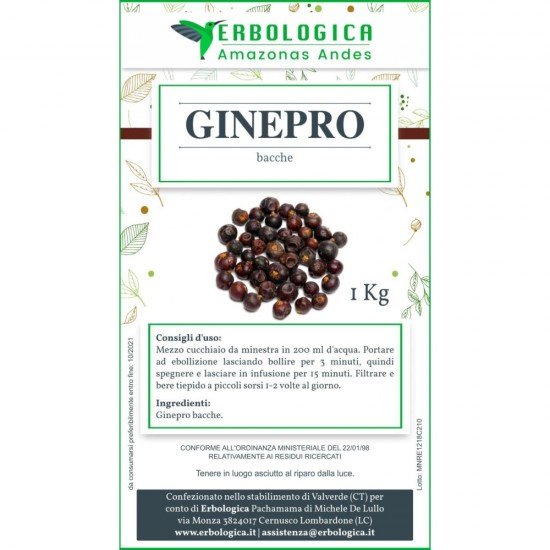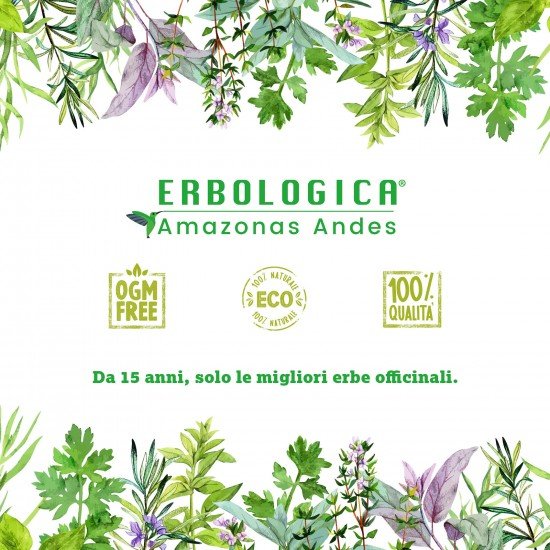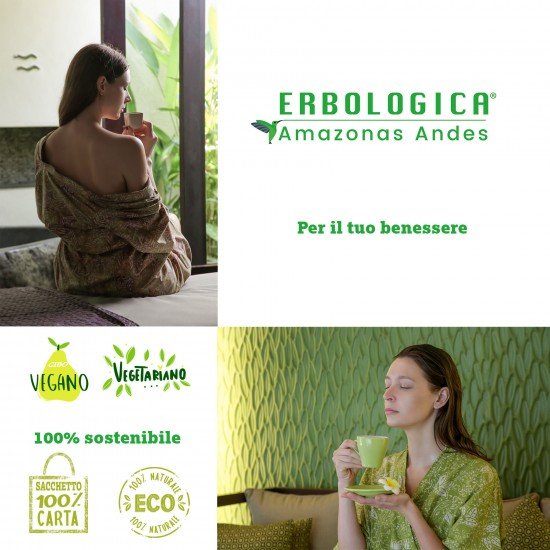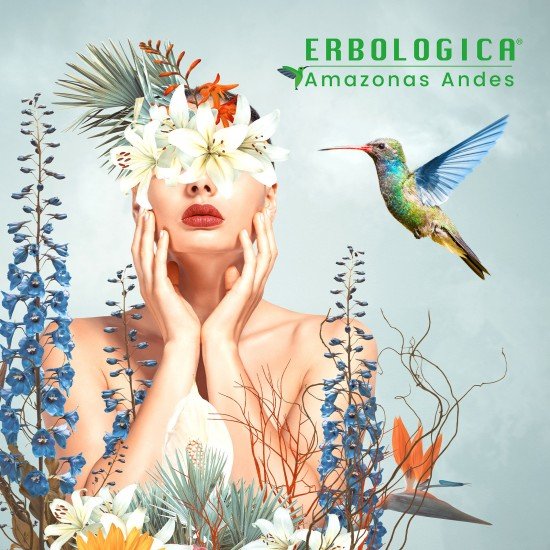 Juniper berries herbal tea 500 grams
Juniper berries herbal tea
Beautiful and decorative, juniper berries are also very good for various health problems, but it is an excellent drink that allows you to guarantee your health as well.

Starting to evaluate what the flavor of juniper berries herbal tea is, we can say that it has a very particular taste, absolutely sweetish which, precisely because of a "curious" sour aftertaste, tends to create contrasts that make consumers fall in love.

The juniper berry herbal tea must be taken into consideration precisely for a prevention and care of one's health. Undoubtedly, its taste is liked, but it is always better not to abuse it because it still has digestive benefits and, used many times a day, leads to a possible laxative stimulus.

The recommended dose, when you want to consume juniper berries herbal tea, is a maximum of two cups a day, then if you have problems with metabolism or constipation you can even reach 3 cups a day.

Juniper berries benefits and properties

What could be the use of consuming juniper berries? The decoctions and herbal teas are absolutely useful for digestive problems, but also for fevers and seasonal illnesses.

In detail, the juniper berry benefits and properties that are anti-inflammatory, asthmatic, flu problems and fights diseases affecting the urinary tract.

Ideal for children, the juniper berry benefits and properties that also aid in boosting and stimulating the immune system. To understand how it works we make "comparisons" that are useful to understand how it can also replace any drugs. We do not want to say that it should be used instead of the medicines recommended by a doctor, but it is possible to have preventive help for the well-being of one's health.

Are you starting to have flu symptoms? Do you have a sore throat or are you asthmatic? Then the juniper berry benefits and soothing and healing properties for these problems. In fact, just for children, it is used as a drink that helps them not to break down the immune system, but to strengthen it in order to stimulate it.

Juniper berries for sale

Juniper berries are not all edible, you need to know which ones really offer a health benefit and when to harvest them. If you take them when they are very unripe, you simply risk having a sort of stomach ache due to some toxins which are not dangerous to death, but give various annoyances.

The advice is to buy them as they will certainly be checked. Juniper berries for sale on the internet or in health food stores are certainly the safest. In fact, we can find juniper berries for sale either in the form of dried berries, fresh or even to be rehydrated.

The important thing to consider is always to buy them on the basis of the use that must be made of them and never on the basis of what is recommended to us by any employees. Right on the internet we find all the features of this product for sale.

Juniper berries how to use it

Juniper berries how to use it? A good question because it is also used as a spice in recipes for the preparation of first and second courses. If it is "multifunctional" then the juniper berries how to use it?

First of all, it can be used as a decoction or herbal tea where we can get the maximum benefits and also the active ingredients it possesses. You must not let it boil, be careful, you must boil the water and then pour it directly onto the berries in order to maintain both the flavor and the principles inside it.
How to use juniper berries in cooking is excellent on meat as it is able to enhance the different flavors and extinguish the strong smell of blood.
Juniper berries 500 grams

Properties: they are stimulating, purifying, digestive, diuretic, tonic, strengthening and restorative,
they treat asthma, bronchitis, disinfect the urinary tract, fight rheumatism, bladder stones.
Herbal tea preparation: 5 grams in 150 ml of boiling water, let it rest, drink 2-3 cups after meals.
Preparation of digestive tonic liqueur:
use 200 grams of juniper berries in half a liter of water and 200 ml of alcohol, some aniseed and caraway,
a little cinnamon, a few cloves, and add 500 grams of sugar.
Leave in a closed jar to rest for a week, filter, drink a glass before meals.
Juniper berries are used as a condiment in sauces, salted and marinated meats.
Burned on the burning embers, they disinfect and perfume the environment.
Contents: 500 gram pack of juniper berries
Sold and manufactured by amazonas andes herbalist international herbology