24 Aug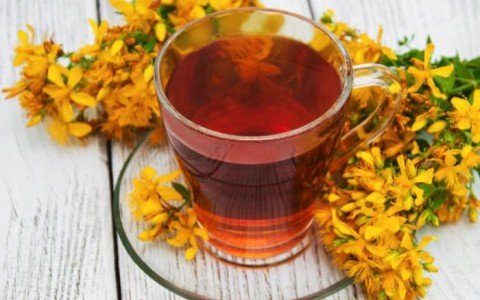 Posted By
0 Comment(s)
441 View(s)
Hypericum is a genus of shrubs and small trees known as St. John's wort, from its common use as a herbal remedy on St. John the Baptist's day (June 24).
It contains several phytochemicals considered beneficial when consumed, such as phenolic acids, flavonoids and different types of terpenes.
But what exactly is Hypericum?
And how can you get more of it in your diet?
Read on to find out everything there is to know about this lesser known herb.
What is Hypericum?
The botanical name of Hypericum is hypericum perforatum.
Hypericum is a genus of flowering plants of the Hypericaceae family, native to the temperate regions of the northern hemisphere,
with most species growing in Europe, Asia and North America.
Its flowers are very colorful, usually yellow, but there are also red and purple species.
It is also called "St. John's wort" because it is often found wild around St. John's Day, June 24th.
But what makes the Hypericum so special?
It has been used for centuries as a medicinal plant by different cultures, from Romans to Native Americans.
It is still used today to prepare herbal teas and tinctures that are believed to alleviate various health problems.
How is St. John's Wort used in medicine?
Hypericum can be used in many ways both in herbal medicine and in functional foods.
Hypericin is the phytochemical that gives St. John's wort its bright yellow color.
This phytochemical is believed to have anti-inflammatory and antioxidant properties.
Hyperforin is another phytochemical substance present in hypericum; it is believed to have ownership as well
anti-inflammatory and that it is a serotonin reuptake inhibitor.
Serotonin reuptake inhibitors are used to treat anxiety, obsessive compulsive disorder, and depression.
Oxidative stress and low serotonin levels are commonly found in people with mood disorders,
which is why St. John's wort is often used to treat these conditions.
Benefits of Hypericum in nutrition
Hypericum is rich in vitamin B6, vitamin C and iron.
These nutrients are great for the immune system and help in the production of new cells and hormones.
It is also a good source of fiber and protein.
This makes it a great addition to smoothie or oatmeal, as it keeps you feeling full for longer.
How to eat Hypericum
Hypericum can be used in several recipes.
It goes well with rich and creamy dishes, such as risotto, and can be used as a garnish in salads.
If you add St. John's Wort to a salad, try to do it at the last minute so that it retains its color as much as possible.
St. John's wort can also be used to make tea.
It is available in both dried and fresh form, so you can make tea cups on mugs.
It can be used as a substitute for other herbal teas such as chamomile and peppermint.
St. John's wort tea is often combined with other herbs; try adding lemon balm, verbena or mint to your next cup of tea.
You can also mix St. John's wort with verbena or mint.
Hypericum side effects
Hypericum contains many phenolic compounds and other phytochemicals, some of which have demonstrated antioxidant activity in laboratory experiments.
The yellow color of hypericum is due to the presence of the phenolic compounds hyperforin and hypericin.
These compounds have been used in laboratory experiments to determine the antioxidant activity of St. John's wort.
There are no known side effects when consuming St. John's wort in moderation.
However, when consumed in large quantities, hypericum can cause digestive problems.
It can also interfere with other medications you are taking, such as birth control, warfarin, cyclosporine, and digoxin.
Final words
Hypericum is a great option for adding some plant-based goodness to your diet.
It is rich in vitamin C and iron and can be used in many different recipes.
To get the most out of this herb, make sure you buy St. John's wort with no added ingredients.
If you want to consume more St. John's wort, try adding it to your smoothie or steeping it in tea.
You can also make it into a salad dressing or use it as a soup garnish.
Hypericum can be used in almost any recipe and is great for anyone who wants to improve their mood and well-being.